Verdantix Global Corporate Survey 2022
EHS Budgets, Priorities And Tech Preferences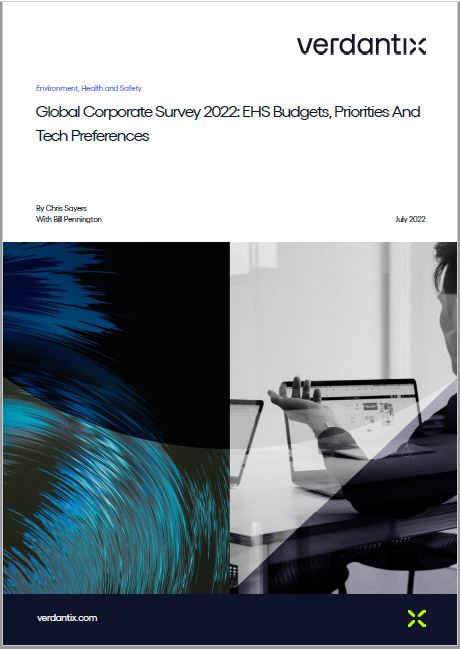 Verdantix is the only independent analyst group focused on the EHS & ESG markets. Donesafe brings you their 2022 EHS Survey so you can better understand where you stand related to your EHS priorities.
This report helps EHS executives benchmark their firms' budgets, investment priorities and technology preferences relative to their global peer group. The data collected through the Verdantix survey also support strategic decision-making and business planning by executives at EHS consulting and technology providers.
This survey contains data from more than 300 companies, and reveals resilient spend in the next 12 months, with very few firms intending to reduce EHS budgets. Mounting environmental and ESG regulation will shift EHS spend priorities as chemical and hazardous waste compliance and environmental compliance top the list for spend increases. EHS technology adoption will continue to grow across the digital landscape.
What's inside:
EHS has become a truly integrated function, providing vital input to other functions
Clarity on how ESG and an uncertain economic climate are shaping budgets and priorities
Emergent Influencers, Led By ESG, Will Result In Steadfast 2023 EHS Budgets
There remains significant headroom for firms to upgrade their EHS technology ecosystems
About Verdantix:
Independent insight and analysis. Verdantix is the only independent analyst group focused on the EHS & ESG markets. Our Environment, Health & Safety research is designed for EHS professionals seeking to improve the effectiveness of their EHS information management strategies. We also serve the needs of C-level executives at EHS software and services firms who need to keep track of the competitive environment, get insight into buyer preferences and make investment decisions on the basis of reliable data.
Get White Papers
Fill out the form to download this white paper.
"*" indicates required fields