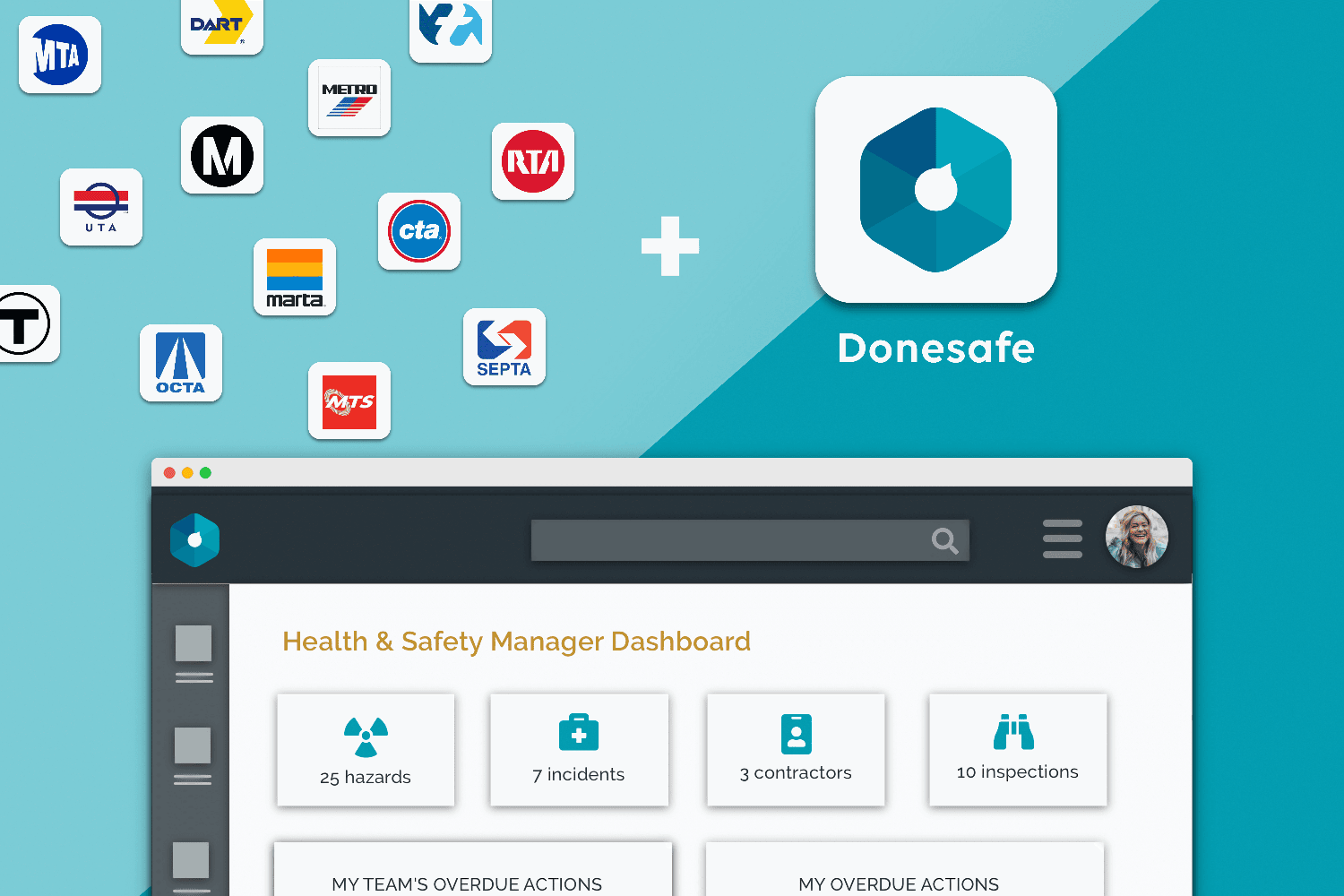 It is official – Organizations within the FTA* structure are going to have to migrate from their current
health and safety (OHS, WHS, EHS) processes and procedures to a safety management system, as of
the new extended date, December 31, 2020. New regulation changes are coming into play and
here's what you need to know:
1 – The changes and what this means for your organization
2 – What are the benefits for your organization?
3 – What will this look like for your organization?
4 – Other related articles
We reveal all now.
Donesafe has been in discussions with a number of agencies and organizations about the transition
from current safety solutions and the switch to integrated safety management systems.
Spotlight – Donesafe. Donesafe has completed all the necessary research and compiled a number
of articles together to help you firstly, understand the changes, and secondly, begin taking action.
1. What does this mean for your organization?
The who, what, where, and when, on the Public Transportation Agency Safety Plan (PTASP).
If your transit system qualifies for the Urbanized Area Formula Grants program funds, some changes
are coming into play. The new rule communicated by the Federal Transit Administration (FTA)
applies to your organization. Effective as of the new outlined date, December 31, 2020, the FTA calls
for certain public transit agencies and all real transit operators to develop safety plans. The PTASP
Final Rule is known as the rule which requires a safety plan with the inclusion of processes,
procedures, and performance targets within a safety management system (SMS).
Note – The FTA has extended the deadline to December 31, 2020—but agencies are still required to work toward compliance.
The PTASP rule DOES NOT apply to the following public transit agencies:
FTA Fund recipients that do not operate transit systems
Commuter rail service regulated by the Federal Railroad Administration (FRA)
Passenger Ferry Service regulated by the U.S Coast Guard
The FTA may defer applying this rule for operators that receive funds through the following programs:
Formula Grants for Rural Areas program
Enhanced Mobility of Seniors & Individuals with Disabilities Formula program
2. What are the benefits?
The benefits of switching to a safety management system include the ability to have all employees,
contractors, and visitors utilizing the same platform for your organization's needs. The engagement
rate across safety and compliance can and will increase overnight with the right systems in place.
The fundamentals are:
Easy to use platform for all employees
Scalable and flexible
Migrating from a paper form
Real-time safety reporting
The benefits of a safety management system that covers all your business requirements is vital for success.
McDonald's increased employee engagement regarding safety by 500% with a 98% acceptance rate on the new safety platform, Donesafe. Read the McDonald's case study here.
3 – What will this look like for your organization?
Donesafe can help you meet all the changes put in place by the FTA when aligning to the new safety
plan. Your new safety management system (SMS) can house all new changes and prepare you for a
safer future. Specifically, Donesafe can assist in facilitating compliant check-in for all your
employees, contractors, and visitors.
What are the core apps required to comply?
There is a list of apps that will help organizations manage safety, safely. Donesafe's recommendation
would be to include incidents, hazards, document management, asset management, and safety
alerts to comply and create a smooth transition for all employees into a new automated safety
solution. All solutions can be found here.
Incident and Hazard Management empower employees to capture, track, investigate, and report on all incidents and near-misses/hazards, including injuries and illnesses, spills, property damage, and vehicle incidents.
Make it easy for your workers to log incidents and help managers and executives to gain a better understanding of what is actually happening agency-wide. Use the collected data to analyze causes, predict hazards, and help prevent incidents in the future.
Safety Alerts aid with communication across the agency/organization whilst sharing incident data
amongst those who need to see it most. Automatic emails, dashboard alerts, and notifications all
ensure that the involved employees, supervisors, contractors and visitors are notified when a new
workplace hazard, injury, or illness has occurred.
Document Management includes all relevant documents, policies, and procedures housed in your
account ensuring employees have access to relevant information for their role. No more folders,
disconnected systems and allows for timely learning, training, or department/role-specific
documentation to sit with the right person at the right time.
Asset Management All MTA assets can be stored in the asset register, ensuring all assets are tracked, monitored, and managed daily. You can also set servicing and maintenance frequency that will fire off notifications to relevant parties at set intervals, to ensure all assets are maintained and compliant.
4 – Other related articles
We can help you comply with the legislation changes for MTAs across the US. With Donesafe, you'll
have an easy-to-use, intelligent, and compliant SMS that can handle all your safety requirements.
Reach out today to learn more.
To learn more about how Donesafe can help your MTA, book a demo below:
---