Overview
Manage every audit from a
single source solution
Donesafe's audit management software makes it easy to run fully integrated audits all from one place.   With completely customisable checklists and processes, you can plan, schedule and execute audits with relative ease on-site or off-site.
Centralized audit library: Manage your entire audit library with documentation, pre-built templates, version control, and more.
No-code configurability: Simple drag and drop builder accelerates advanced customisations from forms, workflows, automations, scoring and more.
Link to everything intelligently: Link and relate to other Donesafe EHSQ Modules, tie it to a worker, KPIs, scheduling or management controls, and more.
Works offline or online: Conduct audits even in offline environments with Donesafe's offline application via mobile or desktop.
End-to-End audits: Schedule, assign, conduct, monitor, action and report on audits all within a single platform.
See a Demo
Custom Templates

Audit Library

Reporting

Scored Responses

Mobile

Multi-level Workflows

Risk Management

Corrective Actions

Non-conformances

Document Management

Notifications

Automation
Orchestration
Collect and connect the dots you never knew existed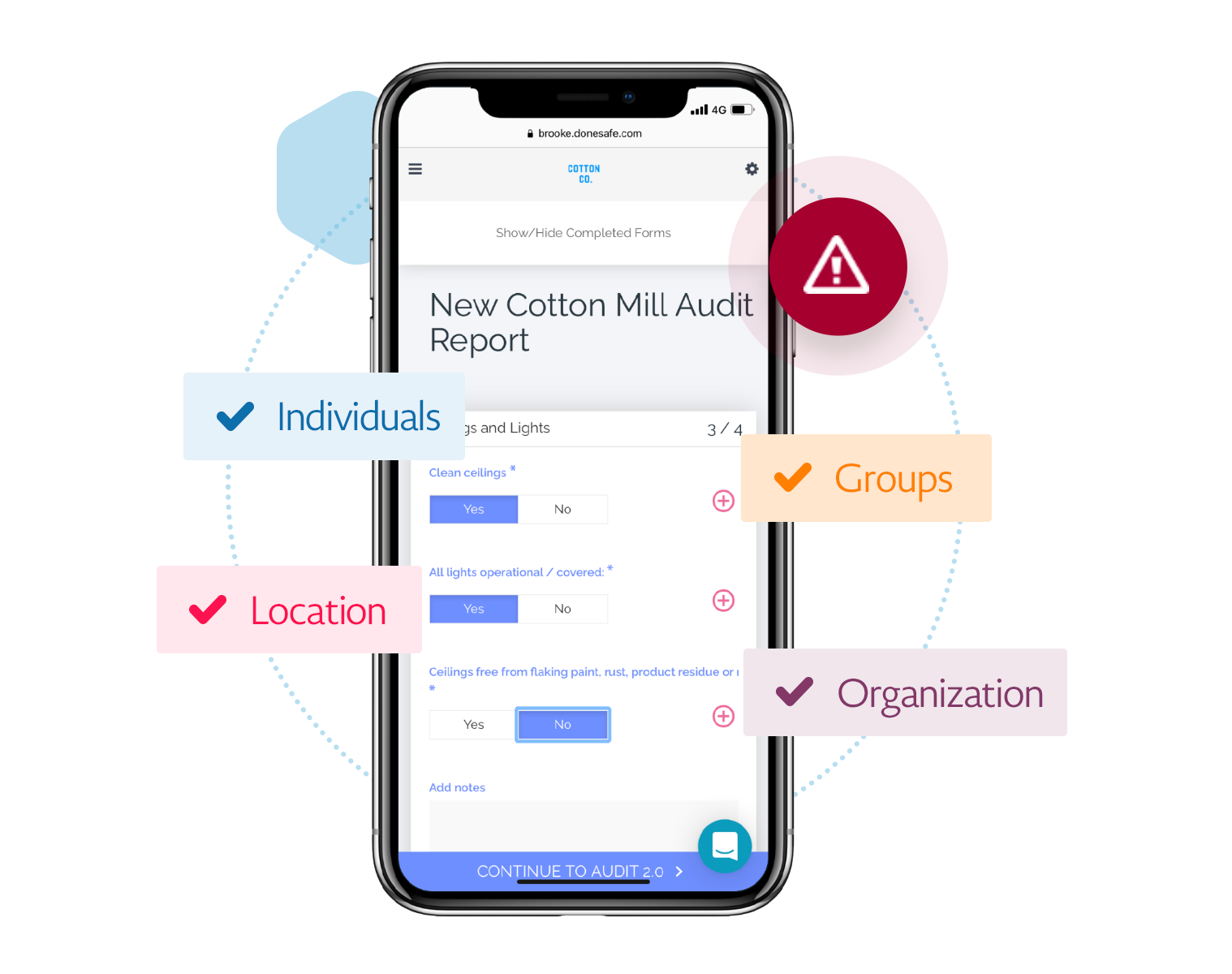 Intelligence
Close the gap between data and action
Experience 360-degree oversight of your entire audit lifecycle. Uncover hidden blindspots, track operational hazards, capture non-conformances, and identify compliance gaps. Take immediate action with intelligent automation or human intervention to mitigate risk and ensure compliance.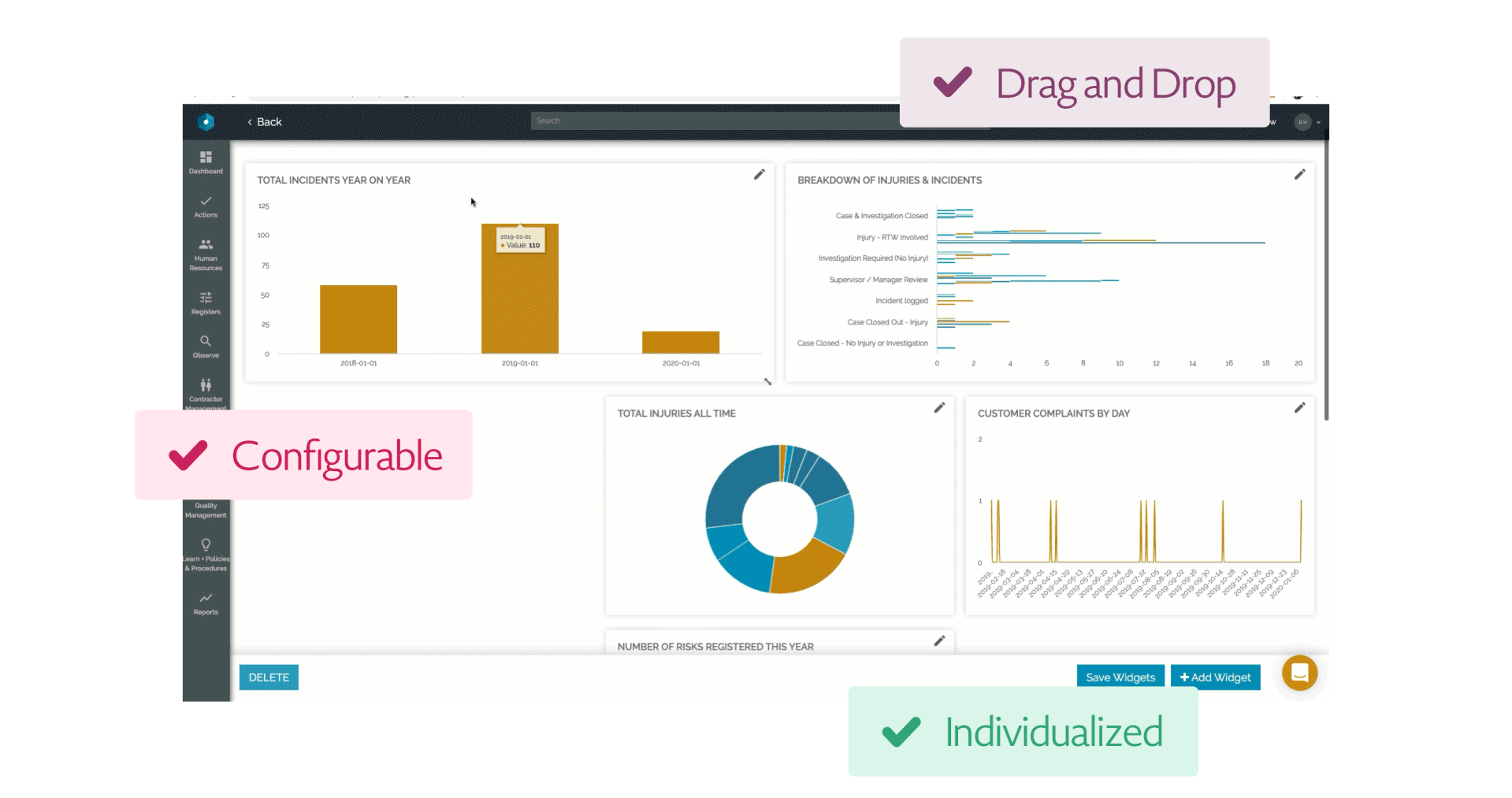 Dashboards
Customizable dashboards delivered to any device, anywhere
Harness global visibility and control all in one place with configurable reports & widgets. Role-specific views let every department focus on the metrics, actions, and tasks that matter most. Track corrective actions from creation to closure, and identify non-conformances while having complete oversight of hazards or non-conformance hotspots within your entire organization. Rapidly surface completed audits, workflow status, missed or overdue audits, overdue actions, top failed audits, risk scores, audit findings, and risk heat maps visually to help drive actionable decisions faster.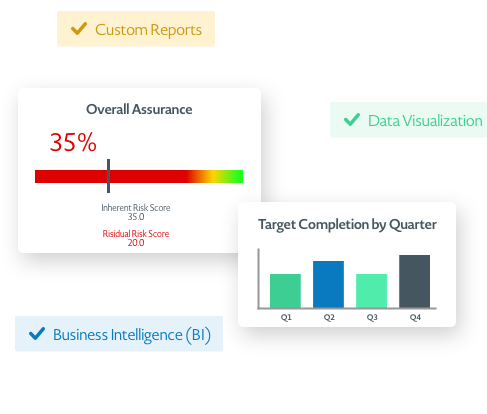 Reports
Build the most comprehensive audit reports
Create, customize, and schedule advanced reports easily with the attributes and visualizations of your choosing. Some of the many reports you can generate include reports against KPI's, non-conformances, scoring reporting to audit findings reports. Donesafe gives you the ability to drill down into reports to understand granular aspects such as by individual worker, auditor, date, types of audits, location, equipment or even by other associated factors such as impact to overall risk appetite. Any aspect of the audit  process can be reported on, including sub-forms, users involved, and actions. Build reports with minimal training, access pre-configured reports, business intelligence (BI) capabilities, and more.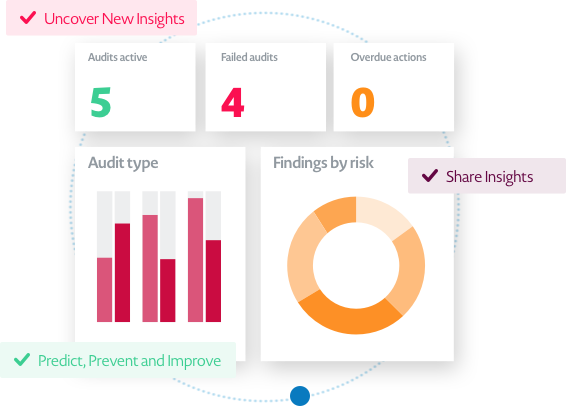 Insights
Eliminate all blindspots and start driving big data insights
Move from hindsight to foresight with insight-led data that gives your entire organization visibility of what's important to make smarter, quicker decisions that matter. You can easily track where audits are up to in their workflow, manage high-priority actions and close out records all from the dashboard, along with reports that monitor audit process across sites and locations, audits by category, average resolution time, and more.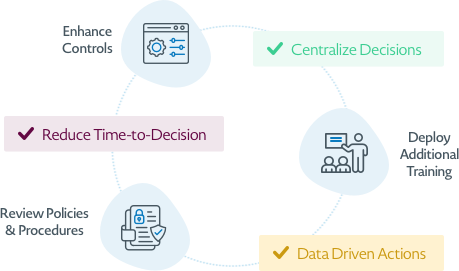 Decisions
Smarter actions start with smarter decisions, faster
Donesafe's robust data management framework is designed to structure data capture that can be translated into real-time actions (workflows automations) or data insights to drive-decision ready workplaces. The Donesafe platform helps you to connect your people, processes, and your operational ecosystem to deliver data and insights for precise decision-making organization-wide.
Features
All the cutting-edge tools you need, to deliver best-in-class
results, effortlessly
Click the icons to explore the platform Better Together
Discover other modules that play well together with Audit Management
Frequently asked questions
Resources
Explore more from Donesafe
What is Audit management software?
Audit management software is a type of software designed to help organizations manage their audit processes. It provides a centralized platform for planning, scheduling, conducting, and reporting on audits, as well as enabling collaboration and communication among auditors and other stakeholders.
Audit management software typically includes a range of features, such as:
Audit planning: These tools help to plan and schedule audits, assign audit tasks to auditors, and define audit objectives and scope.
Checklists and templates: These tools provide pre-defined checklists and templates to ensure that audits are conducted consistently and efficiently.
Document management: Audit management software can store and manage audit-related documents, such as audit reports, policies, and procedures.
Workflow management: These tools manage the workflow and routing of audit documents and tasks, ensuring that all stakeholders are informed and engaged in the audit process.
Reporting and analytics: Audit management software can generate reports and analytics on audit findings and recommendations, as well as track progress towards corrective action plans.
Overall, audit management software can help organizations to streamline their audit processes, improve their ability to identify and address compliance and operational risks, and ensure compliance with regulatory requirements. It can also help to reduce the time and cost associated with audits, improve the quality of audit findings, and support continuous improvement in the organization.
Take a
closer look!
Schedule a personalized 1:1 demo of the platform customized to your use cases