Overview
Manage every checklist and inspection from a
single source solution
Create custom digital checklists for your safety, environmental, quality and operational needs to inform best practices, inspections and templates for hundreds of different workplace settings, processes and verticals. Receive real-time visibility of in-field activity to enable immediate identification of risks, hazards, quality or compliance issues.
Centralized checklist library: Create simple compliance checklist templates and deploy these to individuals,  locations, groups, or the organization all from one place.
No-code configurability: Create and use customized checklists and inspection templates to streamline safety and operational activity.
Link to everything intelligently: Link and relate to other Donesafe EHSQ Modules, tie it to a worker, KPIs, scheduling or management controls, and more.
Works offline or online: Conduct checklists and inspections even in offline environments with Donesafe's offline application via mobile or desktop.
End-to-End inspections: Schedule, assign, conduct, monitor, and report inspections all within a single platform.
See a Demo
Custom Templates

Central Library

Reporting

Scored Responses

Mobile

Paperless Workflows

Schedule

Corrective Actions

Non-conformances

IoT

Notifications

Automation
Orchestration
Collect and connect the dots you never knew existed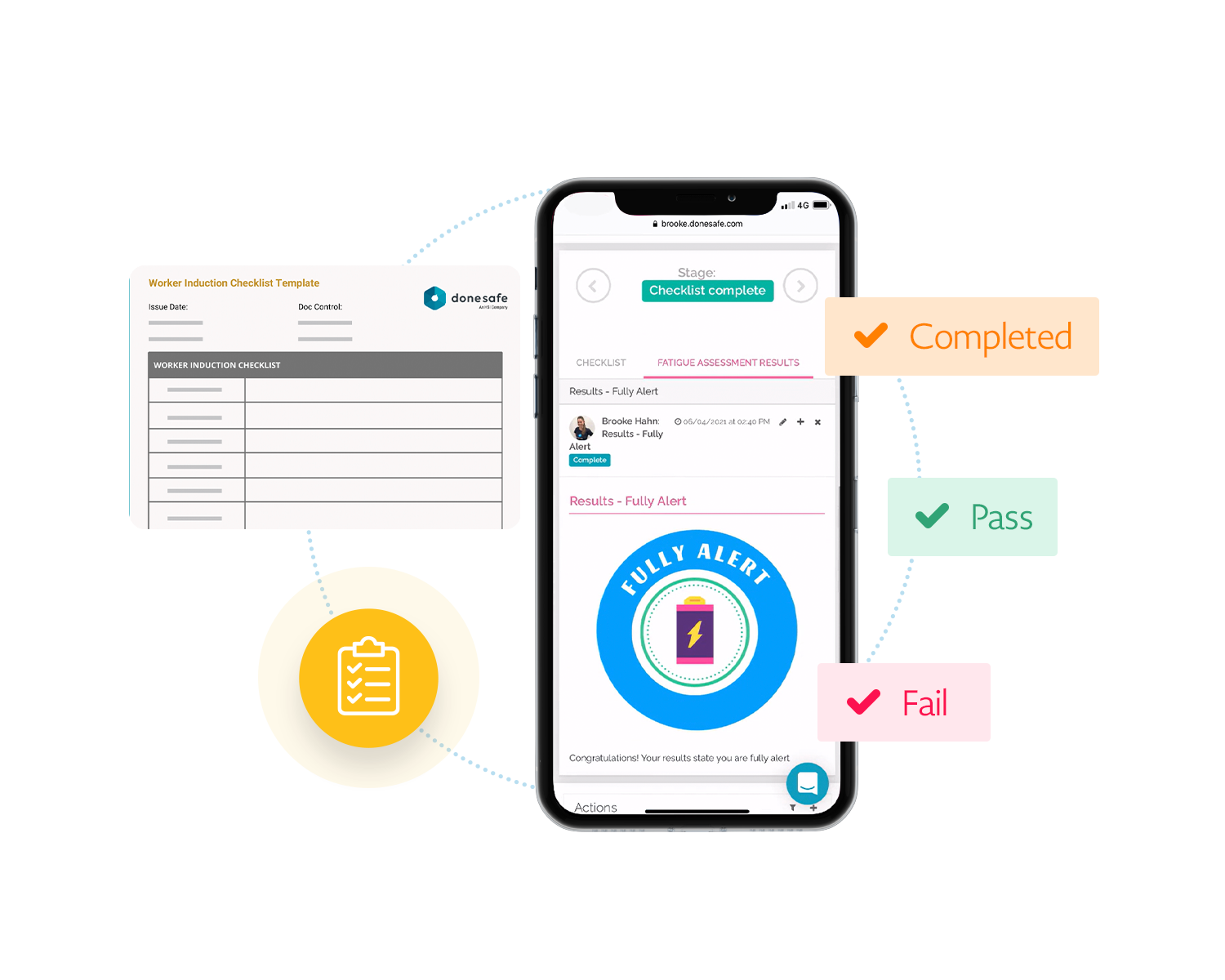 Intelligence
Close the gap between data and action
Experience 360-degree oversight of your entire checklist and inspection status. Uncover hidden blindspots, track operational hazards, capture non-conformances, and identify compliance gaps. Take immediate action with intelligent automation or human intervention to mitigate risk and ensure compliance.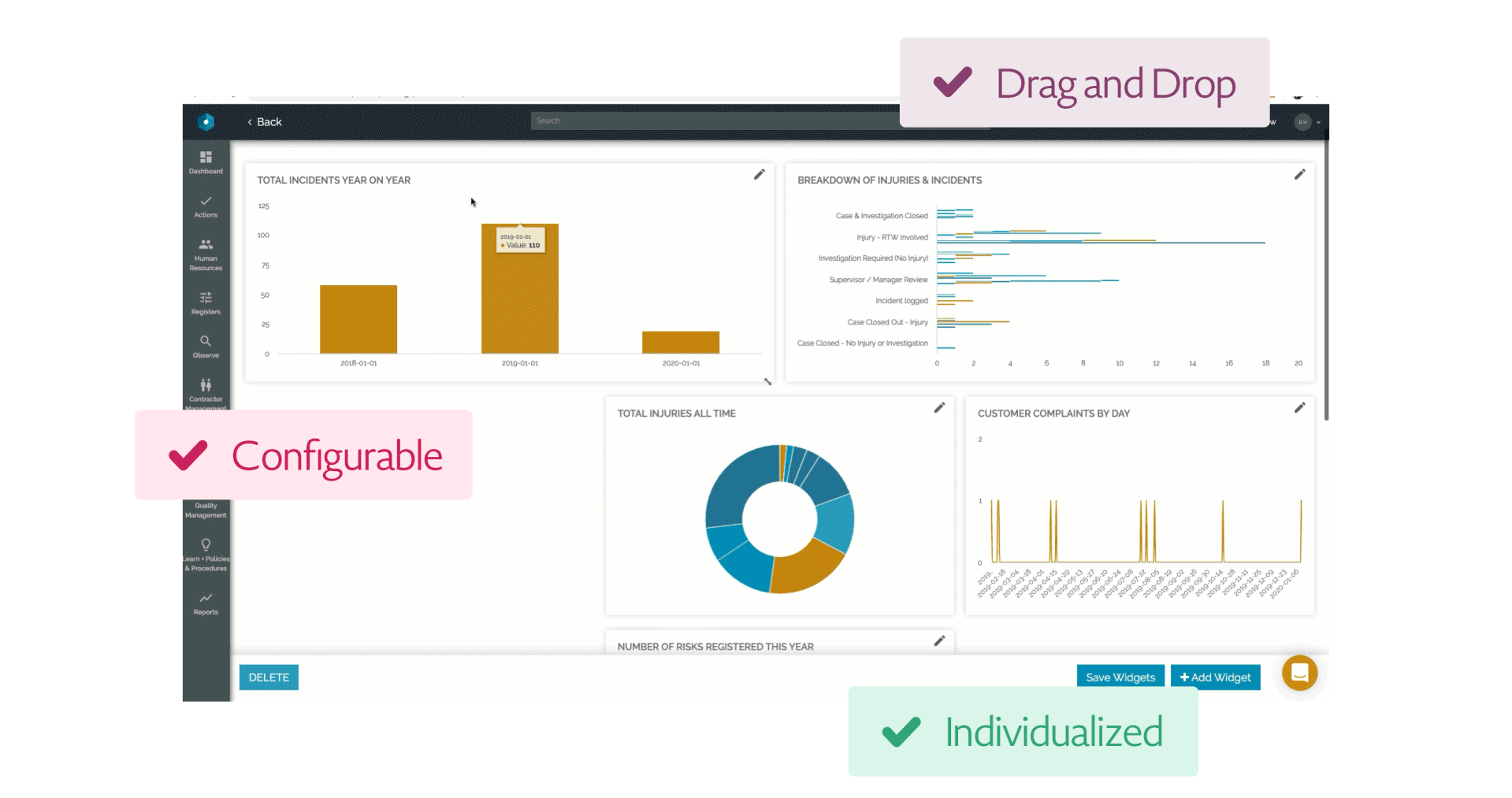 Dashboards
Customizable dashboards delivered to any device, anywhere
Harness global visibility and control all in one place with configurable reports & widgets. Role-specific views let every department focus on the metrics, actions, and tasks that matter most. Track corrective actions from creation to closure, and identify non-conformances while having complete oversight of hazard hotspots within your entire organization. Rapidly surface completed checklists and inspections, workflow status, missed inspections, overdue actions, top hazards, risk scores, inspection findings, and risk heat maps visually to help drive actionable decisions faster.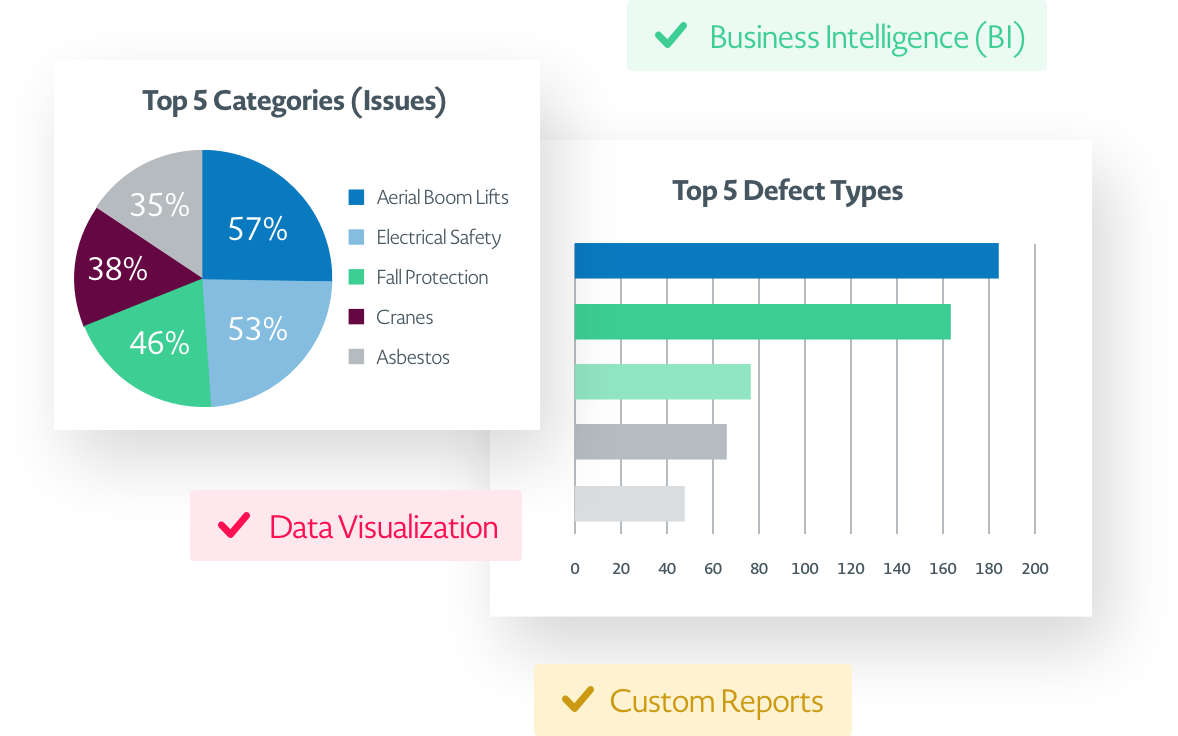 Reports
Build the most comprehensive audit reports
Create, customize, and schedule advanced reports easily with the attributes and visualizations of your choosing. Some of the many reports you can generate include reports against KPI's, non-conformances, scoring reporting to audit findings reports. Donesafe gives you the ability to drill down into reports to understand granular aspects such as by individual worker, auditor, date, types of audits, location, equipment or even by other associated factors such as impact to overall risk appetite. Any aspect of the audit  process can be reported on, including sub-forms, users involved, and actions. Build reports with minimal training, access pre-configured reports, business intelligence (BI) capabilities, and more.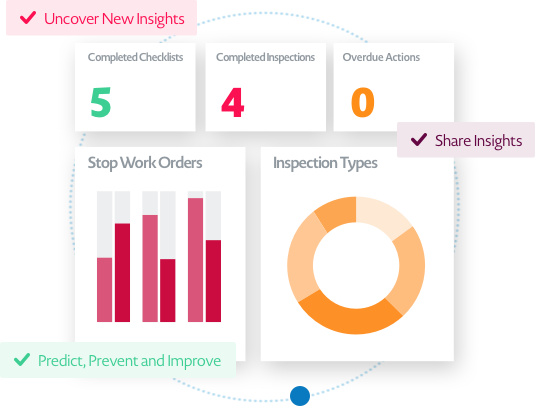 Insights
Eliminate all blindspots and start driving big data insights
Move from hindsight to foresight with insight-led data that gives your entire organization visibility of what's important to make smarter, quicker decisions that matter. You can easily track where checklists and inspections are up to in their workflow, manage overdue actions and close out records all from the dashboard, along with reports that monitor checklists across sites and locations, inspections by category, average resolution time, and more.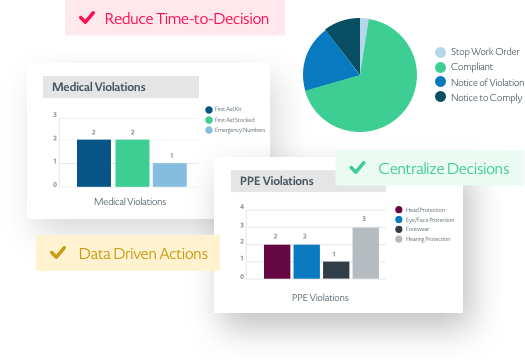 Decisions
Smarter actions start with smarter decisions, faster
Donesafe's robust data management framework is designed to structure data capture that can be translated into real-time actions (workflows automations) or data insights to drive-decision ready workplaces. The Donesafe platform helps you to connect your people, processes, and your operational ecosystem to deliver data and insights for precise decision-making organization-wide.
Features
All the cutting-edge tools you need, to deliver best-in-class
results, effortlessly
Click the icons to explore the platform Better Together
Discover other modules that play well together with Checklists and Inspections Management
Frequently asked questions
What is checklist and inspection management software?
Checklist software can streamline safety, environmental, quality and operational activity within an organization by enabling efficient Inspections, Corrective Actions and Insights.
This software allows Inspections to be completed quickly and accurately, with all parties able to access the same up-to-date Checklists. Corrective Actions can then be easily assigned and tracked to ensure timely resolution. All of this data can then be used to generate Insights, allowing for proactive identification and prevention of potential issues.
Linking Checklist software with audit and observation software provides even greater benefits, such as enhanced visibility across all aspects of the organisation, improved communication between departments and a more comprehensive overall view of performance.
Implementing Checklist software can lead to a safer and more efficient workplace, ultimately resulting in better overall organisational performance. It is a valuable tool for any business looking to streamline their operations and improve their safety, environmental, quality and operational activity.
Donesafe checklists and inspections software provides visibility and insights to help raise safety and quality standards across an organization. Whether your team need to do Start Work Checklists, Fire Safety Checklists, Forklift Prestarts, Ergonomic Inspections or more, they need an easy-to-use checklist solution that can be completed on-the-go with ease.
Take a
closer look!
Schedule a personalized 1:1 demo of the platform customized to your use cases