Overview
Manage your entire risk cycle from a
single source
Discover an end-to-end integrated framework to oversee your entire risk management cycle, from identification to assessment and reduction. Identify key risks, manage processes to facilitate controls, and leverage risk and control libraries with automation. Link to other Donesafe modules such as Incidents, Hazards, and Audit to achieve a 360-degree view of risk in your organization.
Collect: Capture a range of enterprise-wide risks from training, observations, hazards, incidents, injuries, and more to ensure every data source is captured in real-time.
Monitor: Actively conduct audits, inspections, checklists, and assessments to monitor and manage assurance activities while maintaining risk registers.
Measure: Track risk causes, impacts, and controls against compliance processes, Key Risk Indicators (KRIs), and Key Performance Indicators (KPIs).
Visualize: Visualize opportunities and risks at a glance. By combining powerful insight tools and the instant flow of data, you will know exactly where you stand.
Comply: Ensure compliance on anything from training, health and safety, quality, and environmental management to regulations, including; WHS, COMAH, OSHA PSM, ISO 45001, ISO 31000.
See a demo
Risk Assessments

Internal Audit

Actions Management

Registers

Governance

Root Cause Analysis

Risk Reporting

Observations

Risk Indicators

Risk Rating

Hazards

Critical Controls
Key Insight
Modernize your risk management on technology built to adapt
Risk executives need to stay on top of what's likely to pass, what would require entirely new compliance playbooks and what would pose potentially the highest risks to the business model.

52%
Say an increase in new regulations is a top scenario in their 2-year resilience plans
PwC (2022 PwC Pulse Survey)
55%
Are investing in building better crisis management plans
PwC (2022 PwC Pulse Survey)
72%
Say capitalizing on digital transformation initiatives is very important to growth in 2022
PwC (2022 PwC Pulse Survey)
9%
Of companies using software that supports data collection, analysis and reporting on ESG
Oceg (2021 ESG planning and performance survey)
Solutions
All your use cases.
Solved.
Build, configure and deploy. Repeat.
The Donesafe platform is designed from the ground up to be modular and configurable. With over 50+ core modules and the ability to build your own modules, our customers can build all their solutions for every use case under one unified platform.
Checklist & Inspections Management

Create customized online checklists to automate safety and operational behavior, and inspections.

Configurable

Observations/BBS

Streamlines capture and assessment of safety and behavior-based observations.

Configurable

Safety Meetings

Schedule, manage and track safety meeting follow-ups, and link to other Donesafe modules.

Configurable

Emergency Management

Complete emergency program management including preparedness, drills and inductions and personnel.

Configurable

SWMS/JSA Management

Curate a central repository for SWMS, leverage customized templates and automate related workflows.

Configurable

Vendor & Supplier Management

Register, track, ensure compliance and assess performance of your vendor and supplier base.

Configurable

Safety Alerts

Manage real-time hazard alerts, assign key safety lessons, and provide updates via dashboard and email.

Configurable

PPE

Control and manage PPE inventory, automate maintenance and replacement schedules and ensure compliance.

Configurable

Learning Management

SCORMcloud compatible management of competency, e-learning and training requirements.

Configurable

Visitor Management

Automated registration, induction, tracking and communication with all visitors to keep your sites safe.

Configurable

Warden Management

Complete warden lifecycle management from personnel appointments, to inductions, preparedness and drills.

Configurable

Drug & Alcohol

Conduct random testing, manage third party testers, capture results and communicate with the lab.

Configurable

Self Insurance

Manage self-insurance claims and ensure compliance with built-in legislation for covering all jurisdictions.

Configurable

Projects

Single-source project oversight including automated assignment, task scheduling and obligation tracking.

Configurable

Corrective Actions

Link corrective actions to findings and causal factors, set priorities and automate workflows for fast close-out.

Configurable

Non-Conformance (NCR)

Register for logging non-conformances, with a full investigation framework and corrective action plan.

Configurable

Asset Management

Catalog, manage, inspect and audit a wide range of assets including PPE, tools, software and vehicles.

Configurable

Quality Management

Centrally track products, defects, feedback, change requests, non-conformance, work orders and invoices.

Configurable

Attestations

Trigger regular or ad-hoc attestations, and customize the management of declarations and disclosures.

Configurable

Injury & Claims Management

Full spectrum injury claims management including correspondence, investigations and Return To Work.

Configurable

Fleet Management

Control the purchase, registration, assignment, repairs, servicing, invoice and inspection of your fleet.

Configurable

Certification Management

Records, track and manage qualifications, meet compliance requirements and automate notifications.

Configurable

Chain of Responsibility (CoR)

Manage CoR incidents and non-conformance, load restraint assessments and link to consignment information.

Configurable

Permit to Work

Centrally manage the contractor workforce and oversee required permits and licenses.

Configurable

Change management

Manage the full spectrum of change within a controlled environment with full audit trail visibility.

Configurable

Workers Compensation

Conduct end-to-end claims management, calculate associated costs and link directly to insurers.

Configurable

Risk Management

Integrated framework to manage the risk lifecycle, from identification to assessment and reduction.

Configurable
Health Monitoring & Hygiene

Undertake health surveillance medicals, maintain vaccination and testing registers and health records.

Configurable

Document Management

Oversight and control of key operational and compliance documentation, such as ISO 9001

Configurable

Incident Management

Capture, track, investigate and report on all incidents and near-misses.

Configurable

Hazardous Materials

Ensure regulatory compliance, track hazardous materials and risk profile, and manage audits.

Configurable

Sustainability Benchmark

Capture, analyze, monitor and compare critical sustainability data across emission-generating activities.

Configurable

Customer Complaints

Log customer feedback, tag product-related commentary and assign for review or follow-up.

Configurable

Contractor Management

End-to-end management of contractor approval, registration, insurances, licenses and site inductions.

Configurable

Continuous Improvement

Drive workforce feedback processes, assess and prioritise ideas, and measure organizational impact.

Configurable

Contracts

Contract register management including sourcing, tender information, approvals and reporting.

Configurable

Certification Management

Records, track and manage qualifications, meet compliance requirements and automate notifications.

Configurable

Chemicals & SDS Management

GHS compliant management of Safety Data Sheets, dangerous goods and chemical status.

Configurable

Ergonomics

Schedule ergonomic assessments, assign risk levels and drive preventative actions to mitigate risk to workers.

Configurable

Site Diary

Create, assign and monitor site activities, and promote deeper collaboration between sites and head office.

Configurable

Investigations

Framework to conduct thorough investigations, assign corrective actions and drive continuous improvement.

Configurable

Inductions

Assign induction courses, track compliance and generate detailed reporting on your entire workforce.

Configurable

Critical Control Management

Define and improve critical control protocols to mitigate organizational risk.

Configurable

Take 5

Create pre-task risk assessments, identify and assess hazards with our matrix, and assign corrective actions.

Configurable

Hazard Management

Complete hazard lifecycle management, from logging, to corrective actions and close out.

Configurable

Food Safety

Comply with food safety standards (including HACCP), manage related hazards and enforce critical controls.

Configurable

Obligations Management

Meet reulatory, license and permit requirements, assign owners and monitor corrective actions.

Configurable

Asbestos

Lifecycle management of the discovery, inspection, removal and reporting of asbestos incidences.

Configurable

Remote Working

Manage ergonomic and risk assessments, emergency requirements, and log work-related incidents and hazards.

Configurable

Infectious Disease Management

Triage, monitor and manage confirmed and suspected cases and voluntary isolation of individuals.

Configurable

Audit Management

Meet compliance obligations and automate organizational audit management protocols.

Configurable

Build Your Own

Create a bespoke module to meet your organizations specific use cases and link to other Donesafe modules.

Configurable
World-class technology engineered to simplify risk management,
from the inside out
Take control of your entire organizational risk ecosystem by connecting your workforce, processes,
risk frameworks and goals together, in one place.
Single Source
Where risk and compliance management meets the
single source solution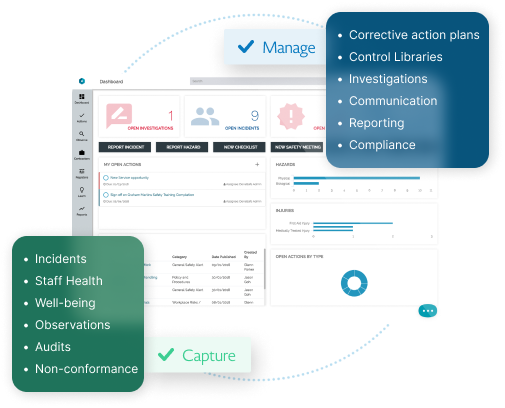 Intelligence
Surface real-time insights.
Close the gap between data and action.
Experience 360-degree oversight of your entire risk management and compliance framework. Uncover hidden risk blindspots, track operational hazards, monitor unsafe behaviors, and identify compliance gaps. Take immediate action with intelligent automation or human intervention to mitigate risk and ensure compliance.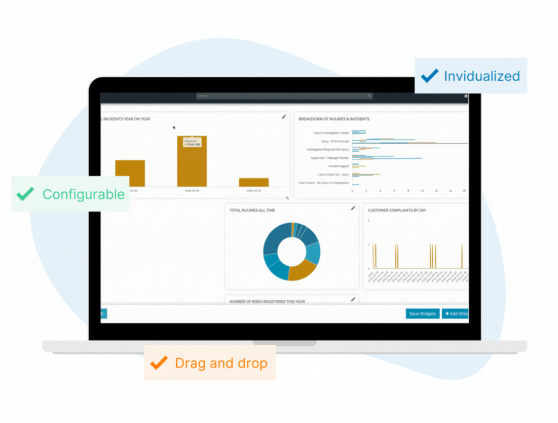 Dashboards
Customizable dashboards delivered to any device, anywhere
Harness global visibility and control all in one place with configurable reports & widgets. Role-specific views let every department focus on the metrics, actions and tasks that matter most. Track team progress, status, events & more. Rapidly surface top hazards, action item closure, risk scores, audit findings, risk heat maps visually to help drive actionable
decisions faster.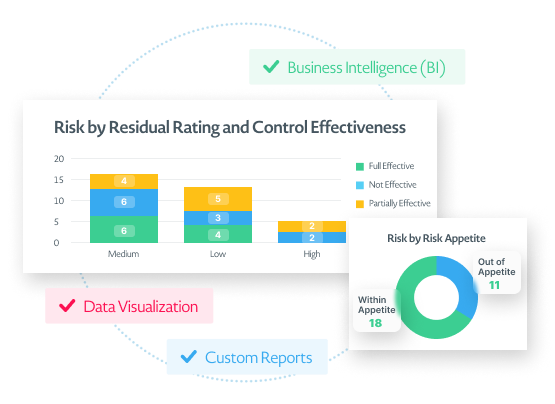 Reports
Build the most advanced reports to meet any requirement
Create, customize, and schedule advanced reports easily with the attributes and visualizations of your choosing. You can even surface any report by adding it as a widget on your dashboard to keep the finger on the pulse in real-time. Some of the many reports you can generate include risk investigation reports, KRIs and KCIs, incident reports, risk by type reports to name a few. Build reports with minimal training, access pre-configured reports, business intelligence (BI) capabilities and more.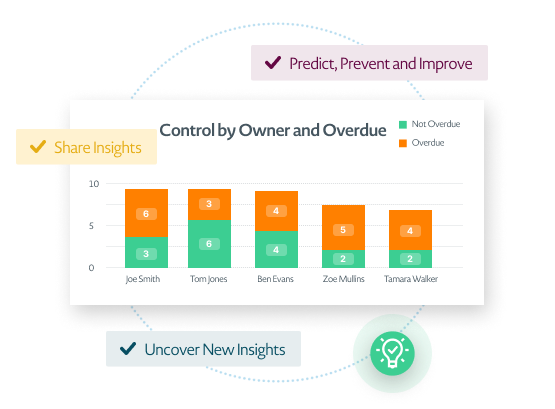 Insights
Eliminate all blindspots and start driving big data insights
Move from hindsight to foresight with insight-led data that gives your entire organization visibility of what's important to make smarter, quicker decisions that matter. Find out what your highest residual risks are or what your most ineffective controls look like. Gain insight into your risk appetite, how risks are distributed and what proportion of ineffective controls sit against your highest rates risks.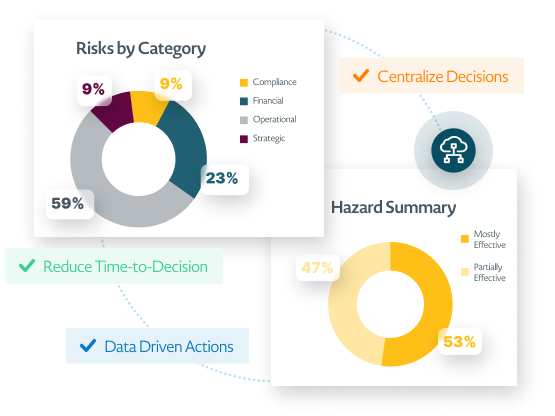 Decisions
Smarter actions start with smarter decisions, faster
Donesafe's robust data management framework is designed to structure data capture that can be translated into real-time actions (workflows automations) or data insights to drive-decision ready workplaces. The Donesafe platform helps you to connect your people, processes and your operational ecosystem to deliver data and insights for precise decision making organization wide.
Features
All the cutting-edge tools you need, to deliver best-in-class
results, effortlessly
Click the icons to explore the platform Resources
Explore more from Donesafe
Let's modernize your world, together