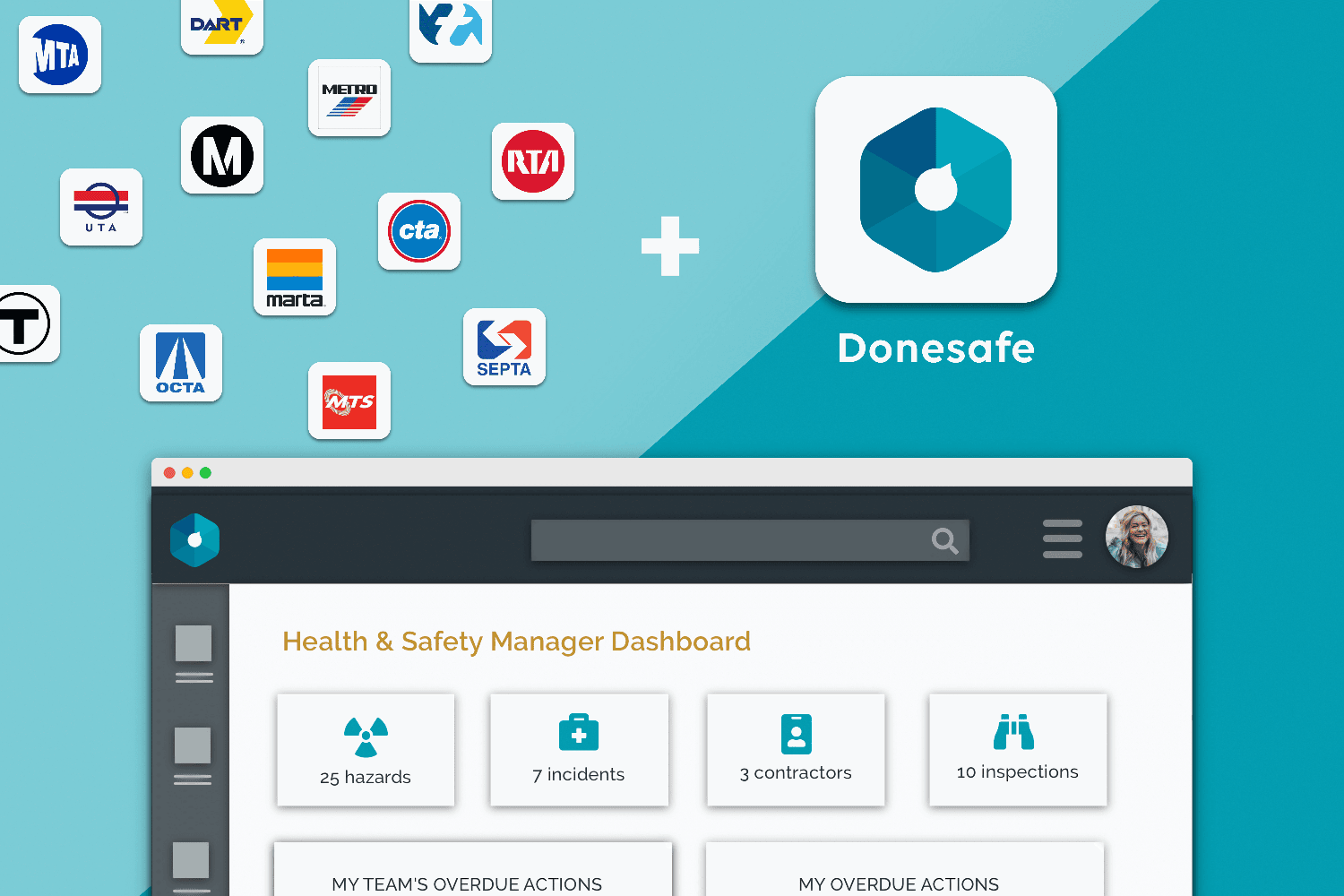 Donesafe helps Metro Transit Authorities (MTAs) comply with new Safety Management System
(SMS) legislation in the US, by offering an easy-to-use, intelligent and compliant safety platform. We
achieved this goal through meticulous research into our industry-leading clients' needs and then
mapping those needs into our platform development roadmap.
And as a result, we have the perfect SMS for MTAs.
Donesafe can help you manage incidents, hazards, risks, safety meetings, documents, assets, and
more – basically everything you need to be compliant with the legislation.
It's super simple for your workforce to use, works on any device, and is jargon-free. And with a suite
of real-time reporting and dashboard tools at your fingertips, you'll always be across safety at your
MTA.
Check out our video on Donesafe for MTAs (less than 60 seconds) below:
Donesafe is the right SMS for MTAs
Donesafe is the ideal platform for you to meet the new SMS legislation for your MTA. Find out why below.
Reason 1: Tackle all your safety requirements
With Donesafe, you can connect all your data, people (workers, visitors, contractors, and suppliers),
and processes to form a single connected solution. One place for your employees to go for
everything safety! We realize that every MTA is different, so utilize our powerful configuration tools
to make amendments yourself, right from the settings area.
You can track incidents, hazards and risks; manage safety meetings, documents and assets; and do a
whole lot more. Real-time data is pulled into relevant dashboards for easy tracking at a glance, as
well as to populate reports where you can drill into the data. All of this within the one platform – no
need to try and consolidate data across multiple point solutions or manually input from paper forms
into spreadsheets.
What this looks like in the platform:
Incident Management: With our incident management app, workers can log an incident in under 60
seconds via a smart form, for example, if a worker has fallen down the stairs at a station. Their
manager can be automatically notified to complete a review and follow all the necessary steps in
your process, including a return-to-work procedure (if an injury occurred) or closeout accordingly.
Check out our incident management video below:
Hazard Management: Hazards can be logged in seconds and can be automatically progressed to the
next stages in your organization's workflow. For example, if one of the doors on a train carriage isn't
closing properly, a worker can log this along with any actions taken to control the hazard. This can be
progressed to a manager review to log risks and controls and to set corrective actions, ensuring the
hazard's lifecycle is managed within the one record.
Safety Meetings: Host safety meetings and pull in all logged incidents and hazards to be discussed
during defined periods. Minutes can be recorded, and corrective actions set, all within the meeting
itself, to ensure everything is covered and closed out accordingly.
Document Management: All relevant documents, policies, and procedures can be housed in our
document management app, ensuring workers always have access to relevant documentation when
they need it. What's more, you can connect documents with your other apps, to ensure workers
receive timely documentation based on relevant actions, for example, after logging an incident or
hazard.
Asset Management: All MTA assets can be recorded in our asset register, ensuring all items are
logged and accounted for. You can also set servicing and maintenance frequency that will fire off
notifications to relevant parties at set intervals, to ensure all assets are maintained and compliant.
Reason 2: Gain process efficiency through automation
Safety leaders can be burdened with significant amounts of manual admin work that prevents them
from spending time doing the important preventative tasks out in the field. With Donesafe, our state-of-the-art automation technology firstly allows you to standardize processes, and then automate the manual tasks moving forward. Our platform also enables you to remove productivity barriers that lead to workplace inefficiencies (think: double handling of info, follow-ups, manual reminders, and so on).
What this looks like in the platform:
Automations: Our easy "if this, then that" logic builder enables you to set rules that automate actions when certain conditions are met (e.g. fire off notifications, corrective actions, key events, and more). Donesafe fires off over 700,000 automations for our clients daily, saving them loads of time and alleviating the manual burdens of administrative work.
Check out our 30-sec video on automations:
Workflows: Our workflows enable you to standardize your safety processes, ensuring that your workers always follow the correct procedure. You can configure each of your safety and compliance processes into workflows that match your MTA, then let Donesafe automate them for you. Worker completed a hazard form? Donesafe will automatically progress it to the next stage in the workflow. Manager Review complete and no further action required? Donesafe will automatically close it out.
Check out our video on workflows:
Reason 3: Insights and predictions at a glance
As a safety manager, you need to always be across your MTA's safety and compliance status. With Donesafe, real-time data and reporting means you can always keep track of safety as well as make data-driven insights and improvements.
What this looks like in the platform:
Dashboards: Donesafe dashboards provide you all the information, data, actions, and reporting relevant to you on the one page (think: your safety command center). You'll have complete oversight of where your MTA is at in safety at a glance, with the ability to drill into the data and reports as needed. What's more, you'll have a single place for insights across all of the Donesafe apps you have, which means you don't need to pool together data across a range of systems.
Check out our dashboards video below:
Reports: You can configure any number of reports across every Donesafe app, based on the data that matters most to your MTA. After you've set reports up once, they'll always populate with relevant data, and can pull into your dashboard for easy visibility or be downloaded as a CSV. You can easily analyze every hazard, injury and incident to anticipate and prevent it in the future.
Reason 4: Easy to use for your workers
If an SMS is clunky or difficult to use, it's almost impossible to engage your workforce to use it
effectively. Donesafe was designed with the end-user in mind and makes it incredibly easy for your
workforce to log incidents, hazards, and more. Our intuitive and fast-to-learn platform enables
workers to log safety events in less than 60 seconds, with minimal time taken out of their workday.
What this looks like in the platform:
Smart Forms: Donesafe utilizes smart forms across the platform. They remove the productivity barriers that typically plague paper-based forms, by making form fills quick and easy for busy workers. Smart forms take no more than 60 seconds to complete and can be tailored to capture the right information your MTA needs for compliant safety logs. What's more, smart forms can be easily configured or updated on the fly with our simple drag and drop editor tools.
Works anywhere: Donesafe works on any device and any browser. Workers are empowered to easily log incidents and hazards from their mobile, tablet, or laptop, wherever they are.
We can help you comply with the legislation changes for MTAs across the US. With Donesafe, you'll have an easy-to-use, intelligent, and compliant SMS that can handle all your safety requirements.
Keen to learn more? Check out our dedicated MTA page here.
Or book in a demo with our team below.
---