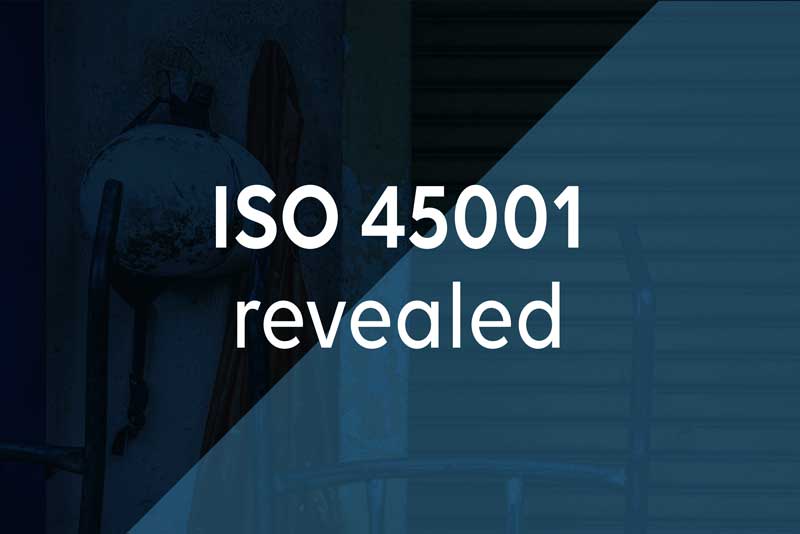 It is official – we are ALL going to have to migrate from health and safety (OHS, WHS, EHS) legislative standard of 18001 to a new safety standard of ISO 45001.
The new ISO safety standard is not radically different from the outgoing 18001 standards. You may, however, be wondering;
1 – What is the ISO 45001 safety standard?
2 – How is ISO 45001 different from OHSAS 18001?
3 – How will ISO 45001 benefit your organization?
4 – What does making the migration from OHSAS 18001 to ISO 45001 look like?
5 – I haven't read through the changes, what are the key similarities that will help simplify ISO 45001.
We reveal all now.
What is the ISO 45001 safety standard?
OHSAS 18001 is about to be withdrawn and replaced by ISO 45001 and we are looking at an early 2018 release. What is 45001, how is it different from the outgoing 18001 standards, how you can make the migration from 18001 to 45001 from a safety management standpoint, PLUS, I will be revealing some tips around 45001 which will make it's adoption MUCH more comfortable for you and your company.
What we are talking about here is that the vote has just come in, 93% of people that voted on iso 45001 have said yep, this standard is ready to go immediately.
This is off the back of a meeting in Malacca back in September 2017 where the decision was made for a final draft and ultimately an introduction in early 2018.. and that is now!
So 93 percent of people who voted have agreed that standards good to go.
What does that mean for the international community?
It means you need to prepare and transition into this new standard in safety and health.
What is new in ISO 45001 standards when comparing it to 18001?
The good news here is that from my observations the new 45001 standard is not radically different from the outgoing 18001. Some provisions in the standard have strengthened, but probably the major difference is the push towards a proactive approach to risk control and embedding health and safety into the overall management system of the organization, from the top down.
OK, so let's break down what I believe are the top 3 themes in the new 45001.
Number one 1. Management Commitment:
Now what's really cool about 45001 is it follows a thing called Annex SL. As the name suggests, this is all about giving you a really balanced approach to corporate risk management and your corporate risk horizon outside of your financial risk. Where 18001 took a reactive approach through delegation of hazard control responsibilities to safety management personnel, 45001 shifts this to a "leader" or management commitment with workers demonstrated by a top-down approach.
Here is a little revelation in trying to simplify the changes. If you are thinking to yourself, 'this seems VERY similar to the quality assurance 9001/2015 updates. Well, you are right. 45001 maps against iso 9001, quality management system specification, and ISO 14001 the environmental management system. So for those of you familiar with these, your life will be made a lot easier.
Number 2. Worker Involvement:
Under 45001 there is a focus on employees working with management to implement safety management systems. Particularly, employees should be provided with training to identify risks and help the organization create a successful safety program. An important component of employee engagement is the removal of barriers and opening up visibility for workers to review audit findings and incident investigation outcomes.
Number 3. Risk Versus Hazard:
This is in keeping with a move towards a more proactive approach, the reactive hazard control of the past is being replaced with a more proactive approach to early hazard identification and risk control. Internal audits, conducting pre-task risk assessments like JSAs and SWMS and workplace monitoring will become the new norm.
Look, the long and the short of it is this; ISO 45001 is all about continual improvement. It's about having a management system where you get together and you consult with each other and get together as a team and you figure out safer ways to work.
Let's chat about your migration from 18001 to 45001
Like mentioned, the good news is that ISO 45001 is not significantly different. So THEORETICALLY, if you have a 18001 compatible management system it means you'll be able to transition to this new clean ISO 45001 management system with ease.
But in REALITY, you might be in for a real nightmare depending on HOW you manage your safety at the moment. Many of you that operate a safety management system whether it is software or paper-based, will have an absolute nightmare making the adjustments you need. Almost all systems we have seen are not future proof, and any changes require exorbitant amounts of time and/or cost to implement.
Some of the things you will need to ask yourself when reviewing your current system and whether it is able to be upgraded to 45001 compatibilities lookout for the following;
Can you make workflows changes quickly and easily?
Does it have a clean and simple user interface that anyone can use? This is now important as the whole company now needs to join the safety conversation.
Does it have an end to end insights and allow predictive alerts to possible hazards?
For those of you using Donesafe, your fine, we have all that. There is a lot more to consider too. For those of you who are not using Donesafe, go to the link shown, we have unpackaged the typical safety system and the gaps you will need to fill in order to transition to ISO 45001.
And as always, keep safe out there.
By Donesafe at donesafe.com
For a paperless, jargon-free business safety solution that you can manage from your phone, click here to get in contact and ask about how you can try Donesafe for FREE or visit our features page to find out more.
---