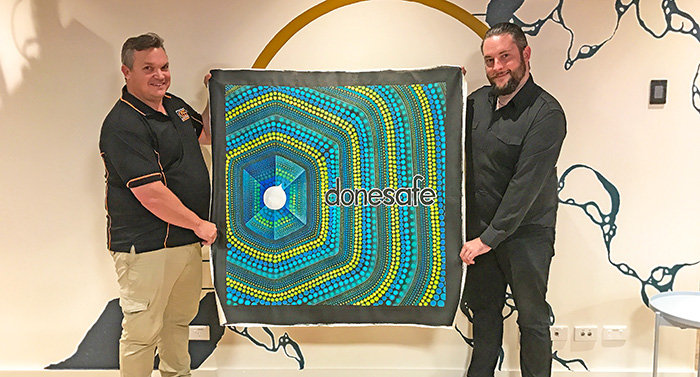 This morning we were gifted with a lovely surprise from our partner Shayne Connolly of Keep It Simple Safety; an awesome custom artwork from famed Australian artist Loretta Egan.
Connolly originally met Egan when he worked with her in Perth with Rio Tinto where, along with her standard work on-site, she used to paint the worker's hardhats for them. He's kept in touch with her ever since.
Loretta Egan is a proud Yamatji woman and speaks the Wajarri language. Based in Western
Australia, Egan is known internationally with one of her artworks even being presented to Queen
Elizabeth on a visit to Perth. We're very proud to have this unique piece of artwork adorn our new
Donesafe office.
Loretta creates original artworks as well as commissioned pieces. You can follow her on Facebook here, and visit her website here.
Keep It Simple Safety is one of our longest-running and most successful certified partners. You can learn more about their Donesafe story here. We'd like to offer Shayne and his team a warm thank you for their generous gift. Thanks, mate. You can learn more about Shayne's safety services on his website here: Keep It Simple Safety
---