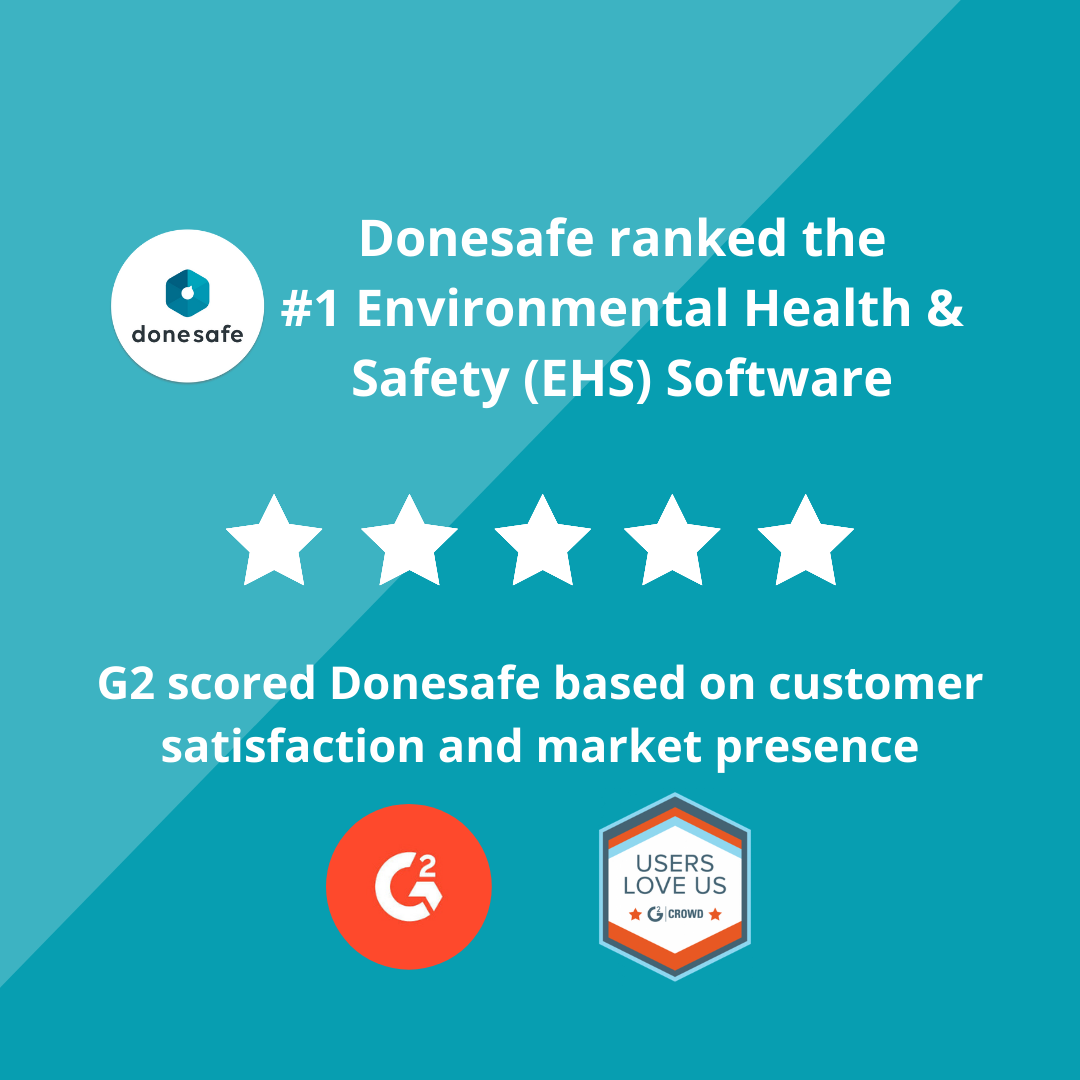 Quick Link
Download the full report now – Go
---
G2 – a popular comparison website for customer reviews and feedback – awarded Donesafe as the #1 Environmental Health and Safety (EHS) Software* platform.
What does EHS software mean for an organization?
Environmental health and safety (EHS) software is used to monitor the health and safety of
employees, and manage work-related incidents that may have put employees at risk. A management
system includes the ability to capture, store, and analyse information related to workplace health
and safety, well-being, waste management, and sustainability. EHS solutions are primarily used
by organisations to maintain regulatory compliance by monitoring environmental performance
metrics, housing policies and procedures, capturing hazard, incident and event data, tracking
inventory of dangerous materials, and performing inspections. The software also helps organisations
to comply with industry standards and regulations regarding health and safety. EHS software is
widely used across the globe to meet compliance standards regardless of the industry and company
size by HR managers, health and safety managers, and by all employees within an organisation.
EHS software can be delivered as a standalone, single-point solution or combined with companywide legacy systems. In an ideal world, you would integrate all systems into one, in order to obtain
streamlined data and consolidated reporting, ease and convenience for employees and managers,
and less admin across your organisation.
What's included in a system for EHS?
An EHS system must include the following requirements in order to create a best-in-market solution
for organisations. Here's the checklist:
Analyze, plan and execute environmental and health and safety activities, risk assessments, audits and inspections, and hazards
Comply with industry-specific regulations for health and safety
Include customizable templates and forms to manage all relevant policies and work instructions
Manage audits and inspections to proactively identify potential issues
Provide training and learning content specific to health and safety
Monitor incidents and provide corrective actions to limit their impact
Manage an audit trail of compliance and safety data
Is there a product on the market that provides a solution to all?

Welcome, Donesafe!
Who is Donesafe?
Donesafe is a cloud-based EHS management solution designed to easily make every workplace safer.
The functionalities within Donesafe allow organisations to manage requirements across environmental, health and safety, in the one platform. Our mobile-first technology, available on any device, helps organisations support their entire workforce, wherever they may be.
Donesafe allows workers to capture information and instantly alert management while initiating
notifications and actions to resolve issues quickly. If there is an incident, injury or death, Donesafe manages the workflows involved in dealing with events. This extends beyond the physical incident or injury.
There are a number of solutions on the marketplace that offer similar functionalities, but what
sets Donesafe apart from the competition is that it enables all workers to use the system and
capture information; rather than solely the admin users within an organisation. Encouraging a
culture where safety is prioritised and discussed throughout an organisation is at Donesafe's core.
Comparison Reports with our competitors
Donesafe vs. Auditor – Click here
Donesafe vs. Intelex – Click here
Donesafe vs. Enablon – Click here
Download the full report here
It's simple! Download by filling in the form below. Once you hit submit, you will begin downloading the PDF straight away.
---
A product's satisfaction score is calculated by G2 using a proprietary algorithm that factors in real-user satisfaction ratings from review data. Software buyers can compare products according to their satisfaction scores to streamline the buying process and quickly identify the best products based on the experiences of their peers.
*Results as dated 20/01/2021
---