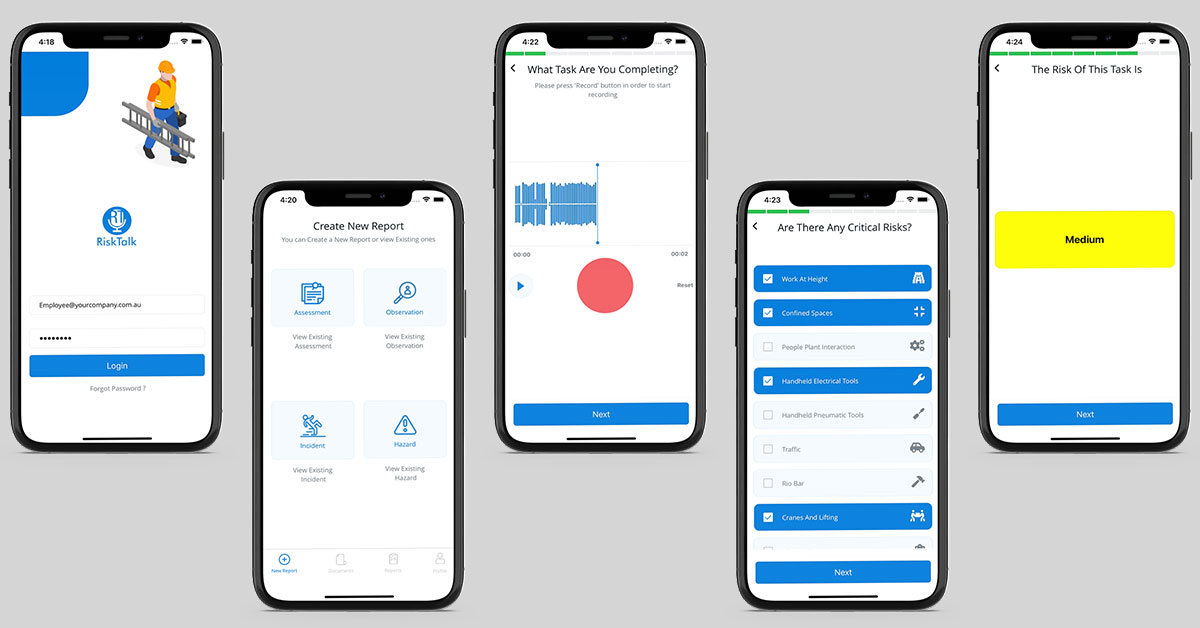 If you ask workers how they feel about productivity and safety, invariably you'll hear that the drive for productivity pushes them one way, and the defined safety requirements of the company pull them in the opposite direction. What if I told you that it doesn't have to be safety vs production? There's a way to keep your workers safe, be compliant, and potentially more productive.
What is Voice Technology?
Voice technology is being utilized throughout the world to allow people to be more engaged and more efficient in tasks they are completing. Siri has gone from around 70% accuracy to mid-90% accuracy in the past few years and Google Home and Alexa from Amazon have become staples in homes across the world. So why hasn't voice technology entered the world of safety in heavy industries yet? Guess what… it has!
It might come as a surprise for some (however, it really shouldn't), but by listening to your workers you can gain some extremely valuable insights. Voice technology has been proven to be far more engaging and efficient for the end-user which means that workers have bought into the safety process whilst wasting no time to manage risks. Frontline workers love talking about their work, the risks and feedback from supervisors and managers demonstrate that they are truly engaged in the risk management process.
Voice Technology Improving Performance
Now, here comes the really crazy part, anecdotal evidence shows that performance is improving! Whether it is the time saved from not having to write out long-winded risk assessments, which often adds little value, or the fact that the workers are communicating to a higher degree (in a way that works for them), managers are reporting that the work completed is being done to a greater standard. Workers having their heads up, walking around and looking and listening to what they are doing and simply talking to an application and each other is having an enormous impact.
The biggest challenge as a software provider in the safety space is to ensure whatever tool we are providing the frontline team members is engaging, efficient, and intuitive. Early discussions/interviews with our end-users gave us the ultimate insights. The idea that team members already "talk about it (safety)" and would rather "talk about it", than have to manually write or type out their responses, was the catalyst behind the use of voice technology as an idea and concept. Using all your senses (maybe not taste) enables workers to look and listen to their work environment and the task at hand which is driving real behavioral change and improvements in risk management.
Amazing Data Relies on Great User Experiences
Amazing data, realtime reporting, and all the other great promises of digital transformation, all rely on the quality of the data input from the frontline workforce. If the UX (user experience) of your frontline tool doesn't drive engagement, not only is the primary goal of "keeping people safe" diminished, but your data is corrupted, and it's feasible that your "compliance" is compromised.
We'll leave the compliance issue for another day, as it's far too complicated for today's piece, but the role of UX in engagement is not to be ignored with regards to safety outcomes and the data captured by your frontline staff. If your new digital tool simply continues to prompt staff with "tick and flick" style questions (and therefore responses) and requests the user type out their perceived hazards and controls, you run the very real risk that the team members simply move into autopilot and respond the same way, over and over, regardless of the complex and changing environment they actually work in.
Naturally, management is often quick to blame the team members on this likely outcome, however really, a very poor safety user experience is often to blame (amongst other things). Great user experience is one that allows the user to look up, view their surroundings, critically think about hazards, and required controls, all the while acknowledging and discussing that information before proceeding with their work in a safe manner.
Voice is the key to all of this…it's simply not possible to achieve these great outcomes with traditional tick and flick style forms and complex typed/written responses.

This article was provided by RiskTalk, an Australian software company, and Donesafe certified partner, whose unique voice-activated safety platform is rapidly becoming a solution in the workplace.
Learn how you can incorporate voice technology with your Donesafe safety management system.
If you want to find out more about the Donesafe and RiskTalk partnership, reach out to the team here.
---