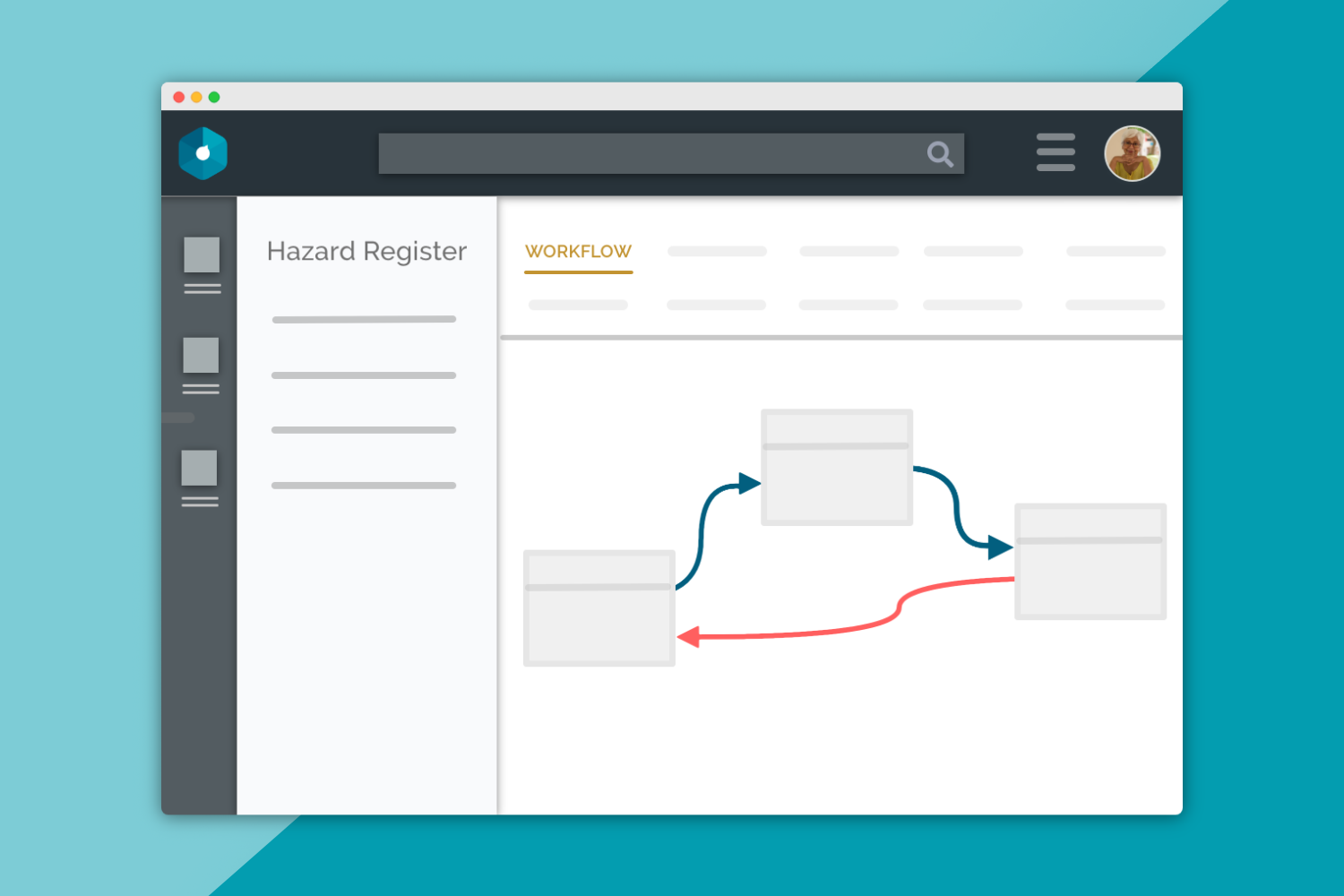 There is a silver lining for organizations currently experiencing workplace changes and disruptions.
This can actually be an ideal time to streamline and make improvements to your workplace's
Standard Operating Procedures (SOPs), particularly if you need to ensure a contactless working
environment for your employees.
But how do you make sure everyone in your workplace follows your SOPs correctly when it comes to
safety and compliance?
Great news!
With Donesafe workflows, you can standardize and automate your safety processes.
They are all online and systematized, meaning your workforce will always follow the correct
procedure.
Everyone from sole traders to global enterprise leaders are moving or have moved from paper to
automated systems. These save time and money, deliver enhanced reporting, streamline processes,
allow for organizational/policy changes at any time, and loads more. An automated system also
enables future-proofing of your business to match organizational or legislative changes. With
Donesafe's configurability tools, you can make fast changes on the fly, without any additional cost or
development work required.
Standardize processes with Donesafe workflows
Configure each of your safety and compliance processes into workflows that match your business,
then let Donesafe automate them for you.
With Donesafe, you can replicate your current tried and tested system with workflows, so you won't
need to spend a whole heap of time reinventing the wheel.
Check out our short video (30 seconds) on workflows:
How do workflows work?
Each app has a workflow builder in the back end of the system. This means you can configure the
workflow for each app to match your business's requirements and processes. These could include
incidents, audits, and claims management, to name a few.
In the back-end workflow canvas, you'll set up the experience of your workers and managers when
they log records in the front end of the system.
With permission settings, you can predetermine with what a user type (managers, employees,
contractors and visitors) interacts. You can control which users have access to each workflow stage;
along with restricting to admins only, access to editing or moving a record back to a previous state
(known as a rejection).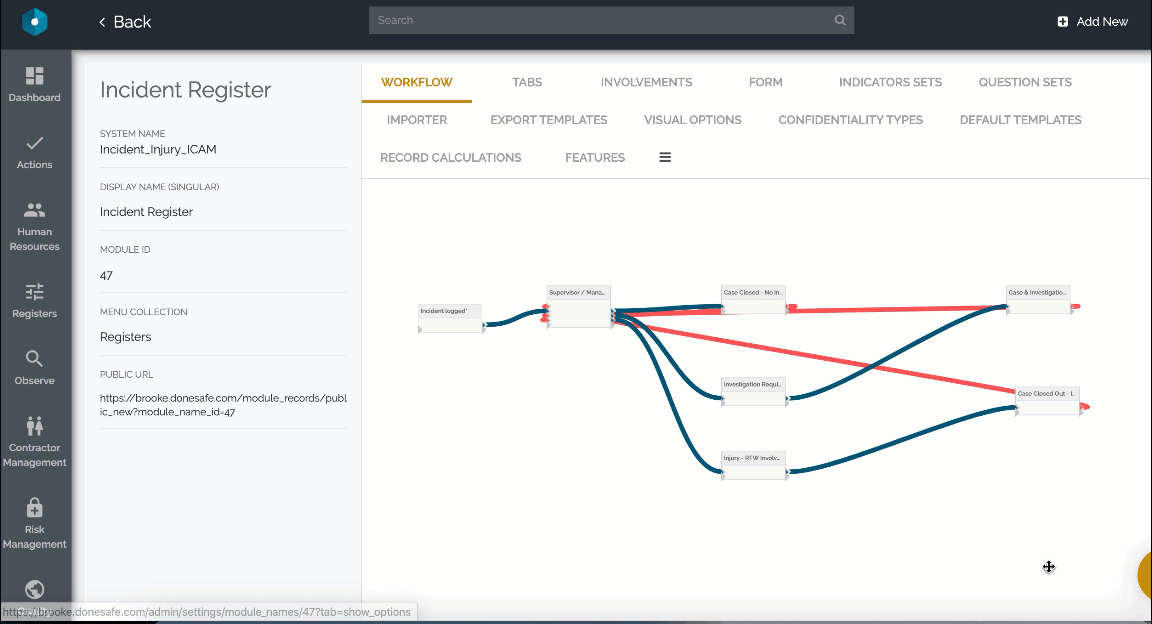 Some of the cool features of workflows
Drag and drop editor – modify each workflow in a way that best suits your business. You don't have to work how we say to; our easy interface means workflows can be configured to align with your business processes.
Configurable workflow connectors – each step in the workflow can be configured via red or blue connectors. Blue means the workflow can only advance/go forward; red means a record can move both backwards and forwards. (You might have red connectors to enable a manager to reject a record or require updates before advancing to the next stage).
Split the workflow – splitting a workflow enables managers to triage relevant records based on a review. For example, after a manager reviews an incident, they can select to either close it out, initiate an investigation, or involve the Return to Work Coordinator.
Layer in automations – layer in automations (via our easy if this, then that logic builder) to automatically change the workflow stage if certain conditions are met, or to trigger set actions. For example, if a contractor's permit has expired, then change the workflow step to De-Registered.
Connect your apps together – use workflows to connect different apps together and create 2-way lines of communication. For example, if a worker reports an incident where they slipped on a liquid, workflows can automatically send them back information on how to clean up the spill.
Customize workflow stage colours – Update each workflow stage to traffic light colours (or any colours you like), for easy reporting visibility on your dashboard.
Easy usability with workflow stage instructions – Add instructions to each workflow stage, so users can complete required actions with ease.
Set workflow advancement parameters – Restrict who can advance the workflow state by location, user role or actions completed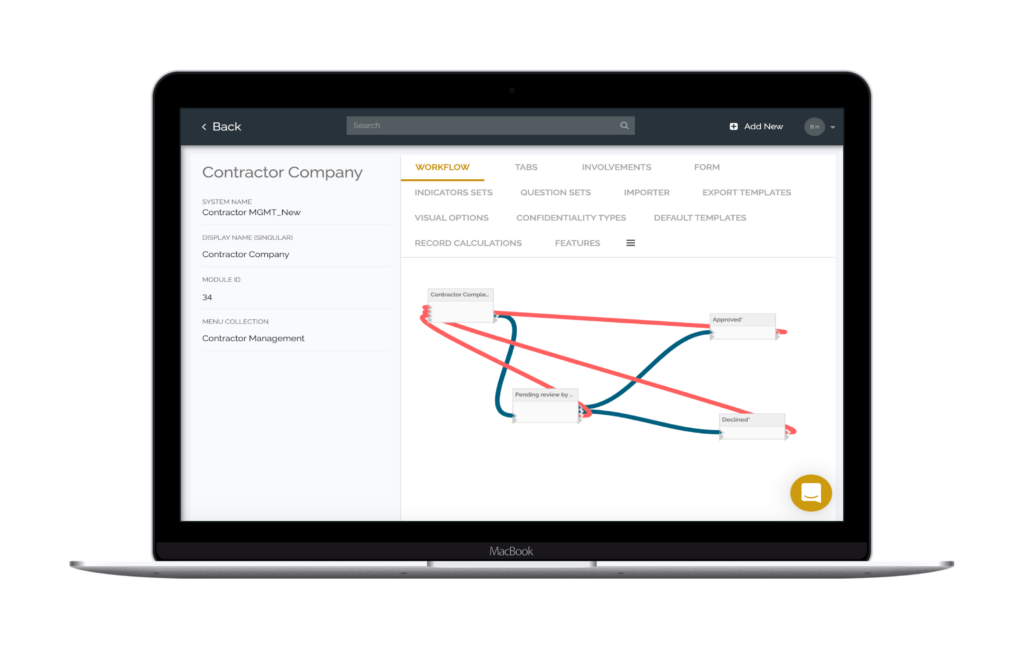 Examples of workflows:
You can set up workflows unique to your business needs across every app. Below are four examples
of how clients have taken the same requirement – incident management – and applied their own
unique workflows to the situation.
Example incident management workflows
1. Incident Logged > Manager Review > Investigation > Case Closed Out: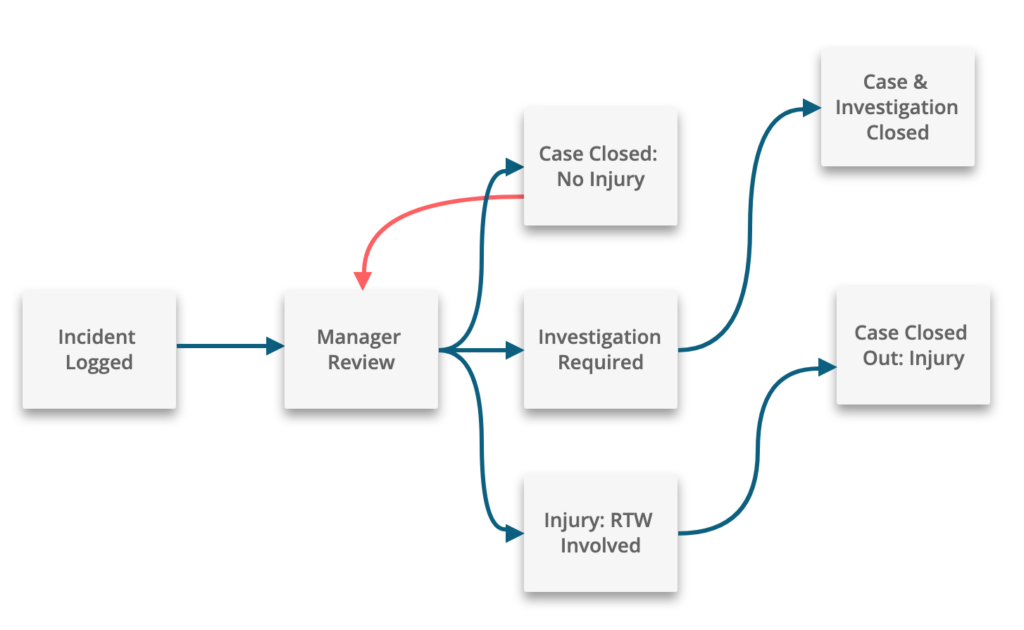 2. Review & Action > Manager Approval > Closed: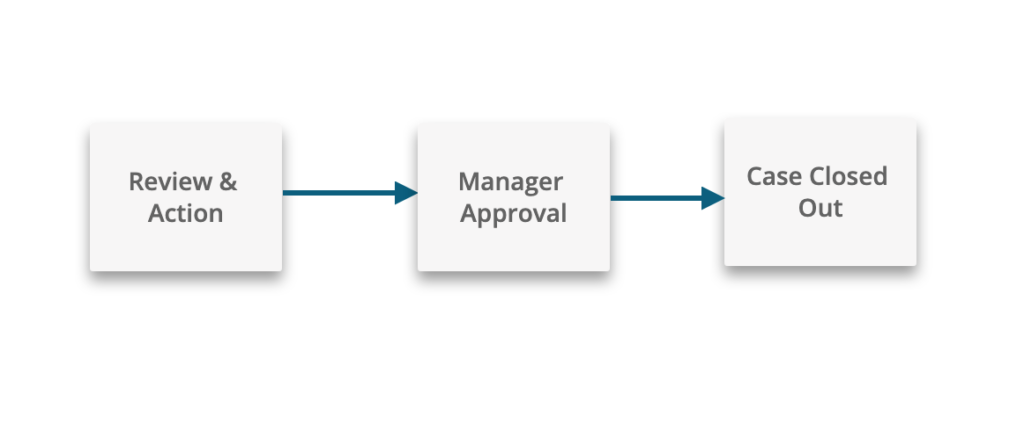 3. Incident Reported > Manager Review > HS Team Review > Closed:

4. Review & Action > Closed: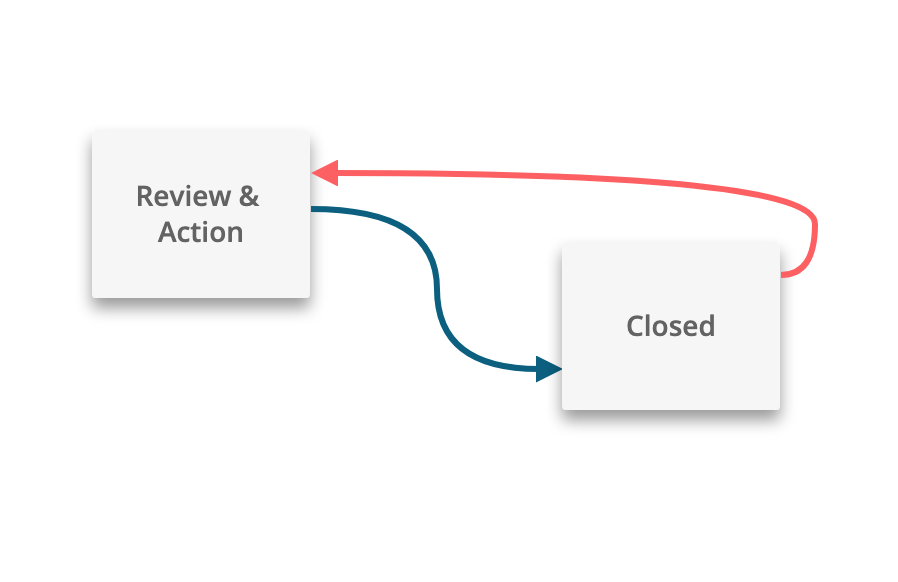 What's your incident management workflow?
---