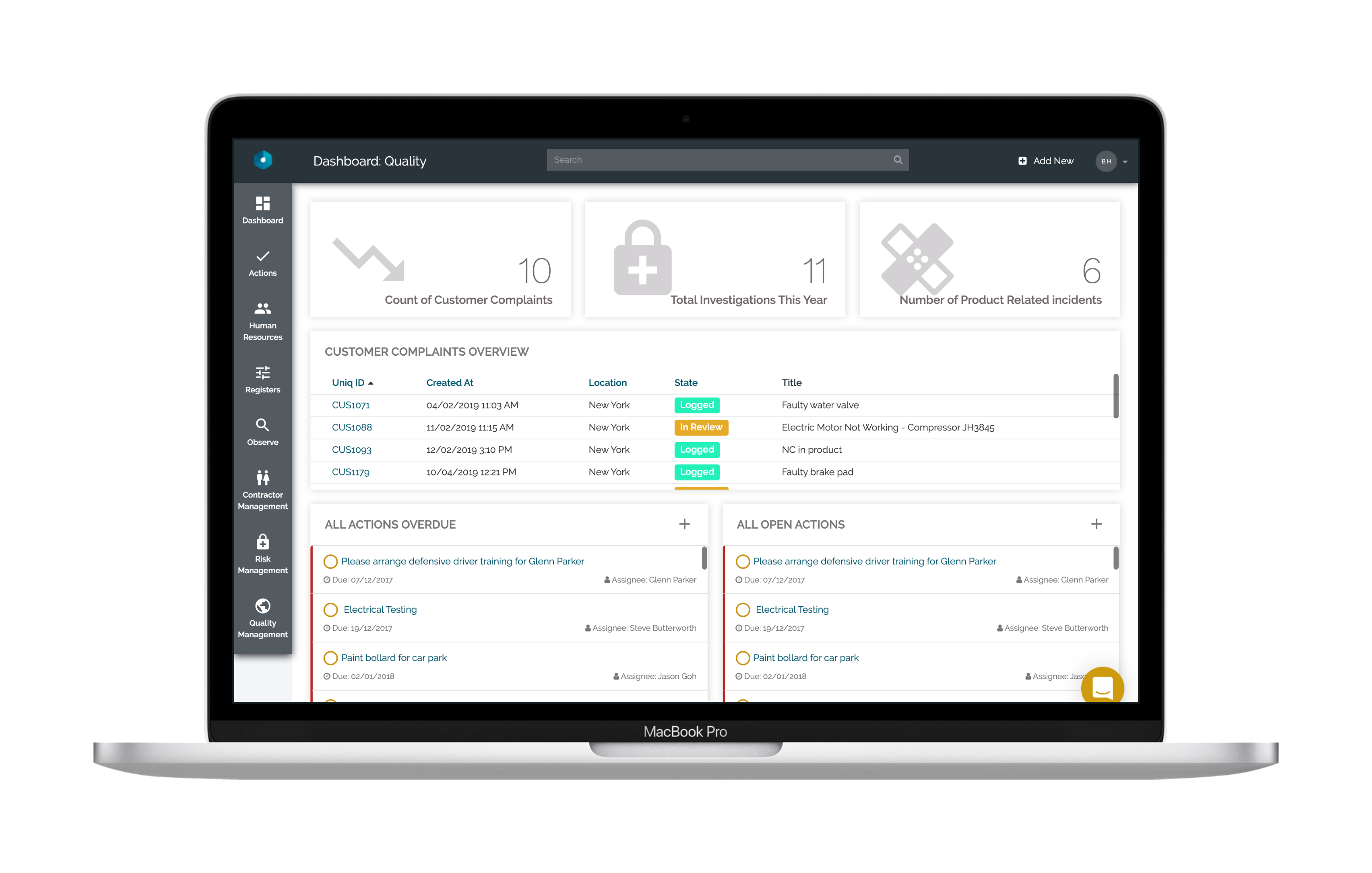 What is ISO 9001 and ISO 9001:2015?
The ISO 9000 is the most well-known and used certification standard in the world, and a cornerstone
of EHS (Environmental, Health and Safety) management. It has been implemented by over 1 million
organisations worldwide, small and large, and across different industries.
While it is not required for every industry, ISO 9000 compliance delivers many advantages for both
businesses and customers by improving the quality and consistency of products and services. This
strong customer focus also benefits the organisation by increasing customer trust and driving repeat
business.
Since its inception in 1987, the standard has undergone several updates. The most recent version,
ISO 9001: 2015, emphasises the importance of the process approach as a pillar of an effective quality
management system. The process approach improves performance and quality goals through the
systematic definition and management of interrelated and interdependent processes. ISO 9001:2015
also places renewed emphasis on risk-based thinking and the Plan-Do-Check-Act Cycle as key aspects
of the process approach to quality management.
To certify or not to certify?
Certain industries must receive ISO 9000 certification to remain competitive or meet specific
compliance requirements. For all other organisations, certification is optional but often beneficial.
Since ISO 9000 is the cornerstone for any solid quality management system, adoption can
significantly improve organisational EHS management, including overall process, standards for
product and service quality, and customer satisfaction.
What makes ISO 9000 so successful at improving both process and product? The standard's guiding principles are rooted in the key tenets of quality management.
The starting point for the ISO family of standards are the seven quality management principles
(QMPs): customer focus, leadership, engagement of people, process approach, improvement,
evidence-based decision-making, and relationship management. While all these principles are
central to the ISO 9000, their relative importance and weight can vary between organisations, or
even across time within a single organisation.
While the message is clear and simple, implementing such a diverse range of goals can prove quite a
headache in practice, especially without a centralised, integrated management system. So, let
us look at how quality management software (QMS) can help implement and track ISO 9001: 2015
compliance, and how to choose the best program for your needs.
Quality management software for ISO: 9001:2015 compliance
While ISO 9000 implementation might appear straightforward on paper, it requires a fair amount of
planning and coordination, commitment, leadership involvement, and organisational participation.
One of the best ways to streamline this complex process is through a reliable and one-stop-shop
quality management software or system (QMS).

Check out the Donesafe ISO 9001 Quality Management Software page for more detailed information.
In an earlier blog post, we covered the role of a QMS and how it contributes to an organization's overall compliance strategy. A QMS administers organizational activities in a way that meets both regulatory requirements and customer expectations, while constantly improving the efficiency of its processes.
Donesafe also outlines a guide to QMS in another blog post. This covers the what, why, how to make the decision and how to implement this within your organization, the benefits plus onboarding and training employees. Your Guide to Quality Management Software.
Why is a QMS critical for ISO 9000:2015 compliance?
1. Connectivity. As safety management infrastructures go digital, data is continuously fed into the
industrial Internet of Things (IoT). This infrastructure depends on a consistent stream of reliable
inputs to yield accurate outputs and analytics. All this real-time functionality makes tracking
compliance on paper an impossible task. In today's networked industrial world, cloud-based
software is truly the only viable option for the kind of tracking and analysis required by ISO
9000:2015.
A QMS also connects the entire quality management infrastructure—apps, people, and processes–
under a single umbrella. This integrated system offers real-time tracking, monitoring, and process
improvement, as well as incident reporting, follow-up, and resolution. This supplies immediate
insights on critical areas of ISO 9000 compliance, as well as long-term insights tracking performance
on the seven quality management principles. The ease of reporting, viewing, and follow-up gives
management actionable data intelligence at their fingertips.
2. Automation. It is clear that QMS software helps free up time for quality managers to do highvalue, preventive tasks that help support consistent compliance. Automating repetitive or manual
processes reduces paperwork and time spent on inefficient tasks or constant follow-up, removes the
potential for human error, and improves accountability. This can also help monitor quality processes
like the Plan-Do-Check-Act cycle. Whether it is for ISO 9000 or other quality standards, automation
is a momentous change for quality management.
Finally, a quality management strategy bolstered by a comprehensive QMS platform can encourage
employee participation in quality-promoting practices, changing organisational culture from within.
A QMS can be set up to monitor training gaps or needs, ensuring that employees are always up-tospeed on quality management best practices.
By increasing efficiency through connectivity and automation, a QMS becomes indispensable for
quality management in a cloud-based, digital world.
Finding the right QMS software for ISO 9000 compliance
There are a few defining qualities of a QMS platform that help ensure seamless compliance with ISO
9000 and other compliance standards. Here are the most crucial factors to consider when choosing a
QMS to bring your quality management strategy to the next level.
Accessibility, features, and interface: The software should strike a balance between having the right features and being accessible to anyone within the organization. It should provide integration across multiple devices, with a user-friendly, intuitive, and straightforward interface that suits everyone from the lowest-tech to the highest-tech worker.
Efficiency: A fully automated QMS supplies end-to-end quality compliance management, while
maximising efficiency and reducing time spent on minor and low-priority tasks. Look for a platform
that combines the entire portfolio of quality management policies, processes, and procedures across
the organisational hierarchy. Pay special attention to the interface and whether it supplies quick
notification, response, and resolution.
Quality of data and insights: A QMS should supply informative data and insights, while also allowing
safety managers to respond efficiently and evolve their approach when needed. Managers should be
able to easily track down and analyse incident reports, audits, and quality compliance. A QMS that
combines efficiency with quality data insights is one that allows you to know exactly where you
stand on compliance in real time.
Customization: A good QMS recognises that organisations have vastly different quality management
needs, and supplies built-in customisation tools that allow management to add or remove
components according to the company's specific quality compliance and reporting needs.
Promoting participation: At its absolute best, a holistic and fully integrated QMS can transform an organization's culture to focus more on quality-promoting activities at every level. A quality management system that allows everyone to be part of the solution will positively change individual and organizational quality standards, from top leadership down to each employee.

---
Donesafe is a Quality management system that connects your system from workers in the field to the management team in the boardroom. Donesafe makes it fast and easy to access, enter, and report QMS data in real-time. Donesafe is a modern & fresh platform with end-to-end functionality. It works online with any device, including offline with native iOS and Android apps. Find out more – Quality Management Software.
To learn more about our Quality Management apps, book in a demo with our team.
---